A few months back, The Ashley wrote a post containing exclusive details about the upcoming season of MTV's The Challenge. She told you the location, the theme and many of the players. Well, kids, (as per usual) The Ashley was spot-on!
MTV has released the new trailer for the next Challenge, which will be called "Battle of the Seasons." As The Ashley predicted, teams of four cast members from a Real World season will be competing against teams from other seasons. The location will be Turkey!
While I don't think it will be nearly as spicy as last season ('Battle of the Exes' was seriously brilliant!) this new season will certainly have lots of juicy plot lines to go off of. For instance, former spouses Melinda and Danny will be competing on the same team, along with Wes who basically screwed Danny the last time he was on the show. (Metaphorically, of course. I hope.)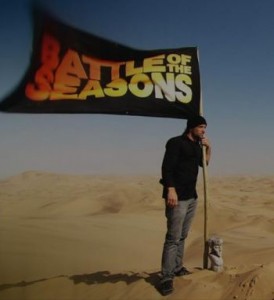 As The Ashley told you before, MTV has also decided to chuck the creeps that have been mainstays on these 'Challenges' for quite some time. This season we will not have to deal with Paula's sobbing mug, Kenny's ridiculous ego, or Johnny's annoying whining. We will still have to deal with Wes, however.
They are also going to be beating each other with giant fish in one of the challenges. That alone is enough to get me to watch this crap!
Based on the trailer, here are some of the other people that we will be seeing on 'The Challenge': Jasmine Reynaud, Sarah Rice, Chet Cannon, Danny Jamieson, Melinda Stroup, Dustin Zito. (For the full list, as predicted by The Ashley, click here.) It's nice to see some faces that we haven't seen on a 'Challenge' in a long time! This show needed some fresh blood!
Good news! We won't have to wait long for the new season of 'The Challenge' to start! It premieres on MTV on Wednesday, September 19 at 10 p.m.!
(Photo: MTV)