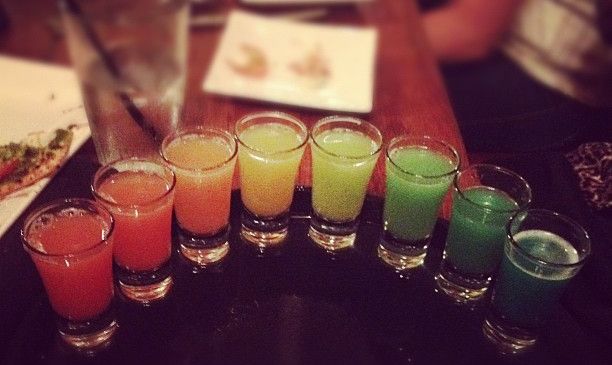 Teen Mom 2 star Chelsea Houska turned 21 on August 29!
Chelsea and several of her friends from South Dakota traveled to Sin City to give Chelsea a proper birthday party! After meeting up (and taking pics) with the stars of the male sexy-time revue Chippendales, Chelsea and her friends headed over to the Palms for some late-night partying at Rain Nightclub. (Fun fact: Rain was the nightclub that the original Real World: Las Vegas cast worked at.)
The Ashley's 21st birthday celebration was nearly identical to Chelsea's! She, too, sat on the laps of those strapping Chippendales lads, and partied at the Palms. (Of course, that was when people were traveling in horse and buggies!)
Of course, Chelsea hit Vegas in style. (Check out the photo that's posted below of their room, which had a private hot tub on their balcony! I can only imagine what a suite like that would cost on a holiday weekend!)
It doesn't appear that she had a 'Teen Mom 2' camera crew in tow, so it's unlikely we'll see the celebration play out on the show.
Several of her Teen Mom franchise cast members also recently turned 21. (Ironically, none of the stars of either 'Teen Mom' or 'Teen Mom 2' are actually teens anymore! Go figure.)
Click here for photos and details of Maci Bookout's 21st birthday celebration!
Check out the gallery below to see Chelsea celebrate her big birthday! I've got to say, Chelsea, you worked that big hair! The Ashley is a huge fan of the bouffant!
(Photos: N9NE Group, Twitter)