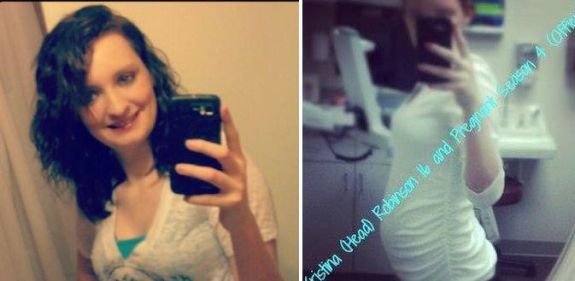 Kristina Head (formerly Robinson) has announced that she is pregnant again! Kristina's episode during the fourth season of 16 & Pregnant was perhaps the most heartbreaking to date. (She was the girl who lost her baby's father in a tragic accident during her pregnancy.)
Things are looking up for Kristina, who is already a mom to baby Lukas. In April, she married TJ Head (hence the name change) and the couple is living in Texas with baby Lukas, who turns one at the end of the month.
This morning, Kristina announced that she is 21 weeks pregnant with a baby boy. She's due in January 2013.
Kristina isn't the first of the '16 & Pregnant' girls to get pregnant again. Jordan Ward of Season 3 had her second baby last year, and Season 1's Ebony Rendon-Jackson and Season 2's Brooke Smitherman-Tarrant are both currently pregnant.
Fans (and The Ashley) thought Kristina would have no problem landing one of the coveted four spots on the upcoming Teen Mom 3 series, but shockingly, she was not picked. (The girls that were chosen are Katie Yeagar, Alex Sekella, Mackenzie Douthit and allegedly Briana Dejesus, although The Ashley still hasn't confirmed her.)
With news of her wedding and second pregnancy, I'll bet MTV is kicking themselves for not choosing her for 'Teen Mom 3.' She would have been so interesting to follow!
The Ashley sends her congratulations to the couple, and wishes Kristina a much easier pregnancy this time around!
(Photos: Facebook/Twitter)