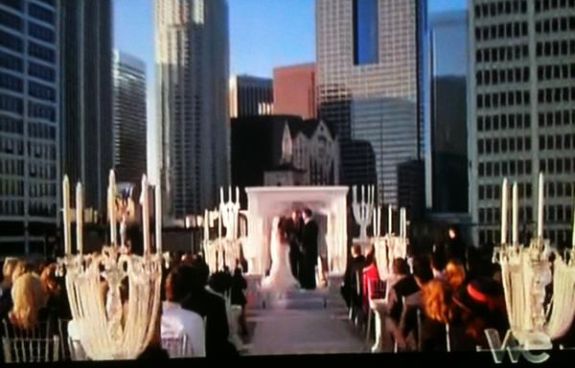 If two seasons of Big Brother and a tear-filled trip around the world on The Amazing Race couldn't tear these two apart, it's safe to say that "Brenchel" is here to stay!
Rachel Reilly and Brendon Villegas tied the knot yesterday on the rooftop of the AT&T Center in Los Angeles. Rachel arrived via helicopter, as you do.
The over-the-top affair came courtesy of David Tutera, who acted as wedding planner for the event. The wedding was filmed for David's My Fair Wedding:Unveiled show, which is why no photos of the bride and groom, or their actual ceremony have been released to the public. According to Brendon's Twitter, the episode is tentatively scheduled to air on December 15 on WeTV, as the season finale for 'My Fair Wedding.'
Anyway, the wedding sounds like it was a reality TV circus. The guest included numerous 'Big Brother' cast mates, including Matt Hoffman (who officiated the ceremony), Chelsia Hart (who served as a bridesmaid), Andrew Gordon, Shelly Moore and Jordan Lloyd and Jeff Schroeder, who, like Rachel and Brendon also did a stint on 'The Amazing Race.' Kat Edorsson of Survivor fame also attended the festivities. America's Got Talent star Cristin Sandu was also at the wedding. It's rumored that he performed for the couple.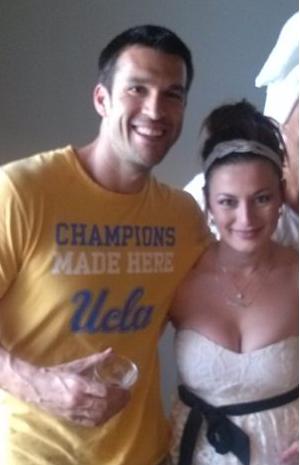 All of the guests were forbidden from posting any photos from inside the wedding onto social media sites.
According to the details released to People, the wedding sounded completely wacky, with the bride wearing a sequined evening gown instead of a wedding dress. (The bridesmaids were decked out in gold and silver sequined cocktail dresses, naturally!)
After the ceremony, the bride and groom were lowered into the room on one of those circus hoops. Seriously. I'm not making this up. According to People, guests were also "treated"  to the bride and groom performed what David Tutera called, 'a retrospective of dance throughout time' that featured the bride in a white sequined tutu and the groom in bedazzled loafers and a sparkly shirt." I wonder whose idea that was?
Despite the shenanigans, the actual decor of the Brenchel wedding sounds beautiful, in true David Tutera form.
"The celestial-themed reception…included all-white flower centerpieces with faux diamonds in the orchid heads, silver chairs with custom silver sequence chair backs and tables with silk, pewter underlays with silver sequins overlays that looked like the patterns of glittering stars."
Check out a few photos that were tweeted out by wedding guests yesterday.
(Photos: Twitter)