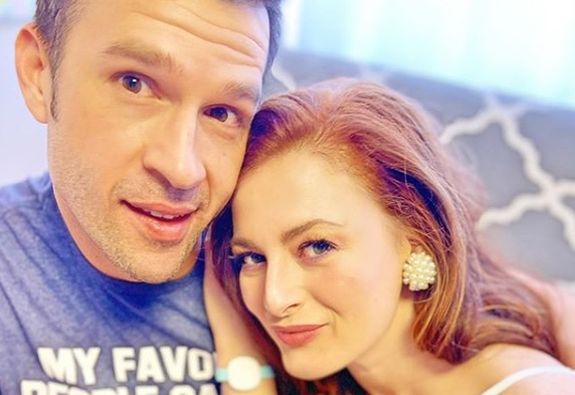 Big Brother couple Rachel Reilly and Brendon Villegas welcomed their second child last week – a son they've named Adler.
Baby Adler joins 4-year-old sister, Adora, making the "Brenchels" officially a family of four. Rachel shared a message with fans on social media this week in which she revealed her son's name and thanked Brendon and Adora for their support.
"Welcome little boy Adler," Rachel wrote on Instagram. "Our family of 3 has become a family of 4! We couldn't be more excited this guy has filled our hearts and home with so much joy thankful for my hubby [Brendon] who is the best partner and such a strong rock in our family!!! Thankful for my daughter [Adora] who is mommy's helper and best friend."
Prior to Rachel's announcement, Brendon shared the news on Twitter that his and Rachel's son had arrived by posting a snapshot of their baby's weight, telling followers "he is a big boy! So much love and respect for Rachel. How she did it I will never know."
No pic of the baby just yet, but he is a big boy! So much love and respect for Rachel. How she did it I will never know. pic.twitter.com/wKMG6rOVeo

— 🅳🆁 🄱. 🅅🄸🄻🄻🅴🅶🅰🆂 (@brendonvbb12) November 12, 2020
The infant's full name is Adler Mateo Villegas, Us Weekly reports, and he arrived November 11 via "super hard and scary" labor.
"At one point I was on oxygen and it lasted longer than my birth with Adora," Rachel told Us Weekly. "Almost 15 hours he did not want to come out of the womb. Brendon was really supportive and my rock the whole time. He encouraged my breathing and my labor positions and helped me when I didn't think I could keep going. He was an amazing partner and has been so helpful."
Rachel added that Adora has been helpful and "very protective" of her little brother.
Rachel and Brendon, who met on 'Big Brother' 12, appeared on 'Big Brother' 13 and also competed on two seasons of The Amazing Race, tied the knot in 2012. The couple revealed in May on social media that they were expecting baby number two.
While the new parents (of two) haven't been "sleeping at all" since Adler's arrival, Rachel said they couldn't be happier.
"Our little Adler is such an amazing addition to our family," she said. "We can't wait to get to know what his personality is going to be like. Our hearts couldn't be more overjoyed and full."
RELATED STORY: 'Big Brother' Stars Jessica Graf & Cody Nickson Welcome Their Second Child Together
(Photos: Instagram; Twitter)