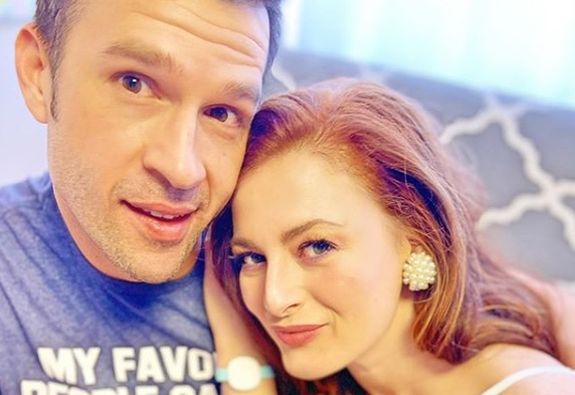 There's another Brenchel baby coming our way!
Big Brother couple Rachel Reilly and Brendon Villegas announced on Sunday that Rachel is pregnant with their second child. The couple— who met on 'Big Brother 12' and appeared on 'Big Brother 13', as well as two seasons of The Amazing Race— has been married since 2012.
In a Mother's Day post featuring their four-year-old daughter Adora, Rachel and Brendon announced their big news.
"OH Baby!!! WELCOME BRENCHEL BABY #2!" Rachel wrote in the caption of the post, which shows Adora holding a sonogram photo.
"Happy Mother's Day! We have a lot to celebrate this year. As a mom it's my day to celebrate Adora & OMG baby #2!! I can't believe I'm pregnant! We've been trying for a while to have another…"
Rachel announced on Instagram in February that she and Brendon were trying to conceive but stated at the time that they hadn't had any luck.
"We've been planing to have another child for a while and haven't been successful (this happened with Adora too)," she wrote.
In an interview with People magazine, the couple said that they do not yet know the sex of their baby. Brendon stated that having Rachel pregnant during the current C0VID-19 pandemic has been a struggle.
"In the midst of a pandemic, I am most concerned with Rachel and the baby both maintaining their health throughout the pregnancy," he told the magazine. "Honestly, that is all I care for at the moment, their safety."
Rachel— who has made appearances on a bunch of reality shows including Hell's Kitchen, Celebrity Fear Factor and an additional season of 'The Amazing Race' with her sister Elissa— says she will put the new baby on TV at some point.
"Yes I'm already planning their reality TV appearances," she told People, adding that she's hoping the new baby is a girl so she can team with Adora and they can go on a season of 'The Amazing Race' of their own.
"[It would be] fun for Adora to have a sister so she can compete on 'Amazing Race' with her sis like I did," Rachel said.
When Rachel was pregnant with Adora, she told The Ashley in an exclusive interview that she and Brendon would not be naming their child "Brenchel"— the couple's 'Big Brother' nickname. At the time, she sounded pretty sure that no Villegas baby would be given that moniker, so it's unlikely to be the name of Baby No. 2.
"People have been saying that 'Brenchel' would work for a boy or a girl though, but that definitely won't be the name we're giving our child!" Rachel told The Ashley in 2016. "The baby's last name will be Villegas, so we joked that we could actually give the baby a name that makes its initials POV [short for 'Power of Veto' in 'Big Brother.']"
Baby "Brenchel" isn't the only 'Big Brother' baby coming this year. Last week, 'Big Brother 19' couple Jessica Graf and Cody Nickson announced that they, too, are expecting their second child.
Rachel has not yet revealed when she is due to give birth.
RELATED STORY: 'Big Brother 19' Couple Jessica Graf & Cody Nickson Announce They're Expecting Their Second Child
(Photos: Instagram)