There's another Big Brother baby on the way!
Jessica Graf and Cody Nickson—who met on Big Brother 19 in 2017 and went on to win The Amazing Race in 2018— announced on Wednesday that they are expecting their second child. The couple, who have been married since October 2018, are already parents to 13-month-old daughter Maverick.
Jessica posted the surprise announcement to her Instagram, posing with Cody and Maverick and holding a sign that says, "Baby #2 Coming Through." In the photo's caption, Jessica stated that she and Cody had not planned to announce the pregnancy at this time, but they made a few social media mistakes and decided to tell their fans their big news.
"FINALLY! As you guys know, Cody and I have been wanting to have all our kids pretty close in age so we were determined to get pregnant this year," Jessica wrote. "A part of me wanted to straight Kylie Jenner it and tell you guys after the birth but after several accidental IG stories with our ultrasound peaking through in the background, we knew it was time to come clean. Maverick is going to be a big sister! I'm not really sure if she fully understands that yet but no matter what, she's always going to be my baby."
On Jessica's Now What?! podcast, she and Cody talked about why they have kept the pregnancy a secret for so long.
"I liked people not knowing," Jessica said. "It's nice."
"It is nice to have a piece of information that just we know," Cody added.
In a statement to People magazine, Jessica said that she will be giving birth this fall but did not give a specific due date.
"After dozens of negative pregnancy tests, Cody and I finally got the results we wanted!" she said. "We're so happy to announce we are officially expecting a new addition to our family this fall."
The couple has yet to find out if they are having a boy or a girl, but told People that they will be doing a gender reveal while in quarantine, and will be posting video of that to their YouTube page soon.
"We're excited, I'm excited to have two little tots running around," Jessica said. "Now that Maverick knows how to walk she can be a good big sister."
On Wednesday evening, Jessica posted a few sonogram photos of Baby Nickson (who already has his or her own Instagram, naturally.)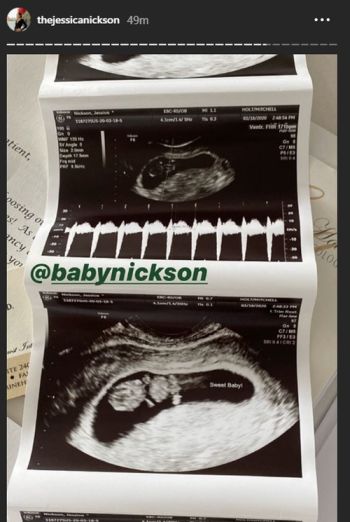 This will be the second child for Jessica and the third for Cody, whom, in addition to Maverick, has daughter Paisley from a previous relationship.
RELATED STORY: "90 Day Fiance" Season 4 Couple Alla Fedoruk & Matt Ryan Welcome a Baby Girl
(Photos: Instagram)