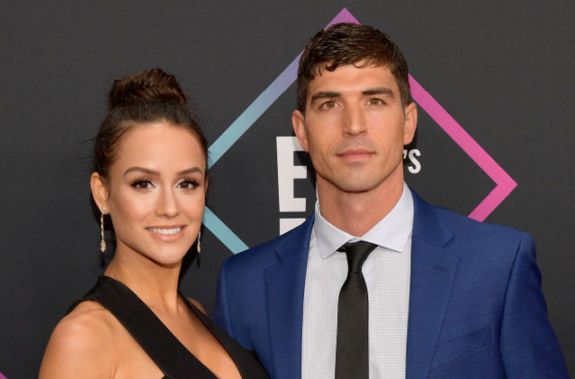 The newest Big Brother baby has arrived!
Newlyweds Jessica Graf and Cody Nickson— who starred together on 'Big Brother 19' in 2017 and 'The Amazing Race' in 2018— announced that they welcomed their first child together on Sunday, nearly a month earlier than Jessica's due date of April 11.
The Amazing Race winners named their daughter Maverick Nickson… and, naturally, she already has her own Instagram account.
Baby Maverick— who weighed in at 6 pounds, 7 ounces and measured 18.5 inches long– was born via emergency C-section, according to the latest episode of Jessica's Now What?! podcast.
"Let me tell you kind of how that day went," Cody– who was broadcasting from Jessica's hospital room– said on the podcast. "Jessica was not feeling too well. She lacked energy and throughout this pregnancy she's always had great energy…she was extremely swollen and she just felt completely off."
Cody used a home kit to test Jessica's blood pressure and he says it was at a level that "didn't seem possible." After checking it using a blood pressure testing machine at the local pharmacy, Cody said Jessica's blood pressure was 185/113, so they rushed to the hospital.
"On the way to the hospital, Jessica's vision started going out," he said. "It started blurring, she got an insane headache and her belly started hurting really bad."
Cody said that as soon as they got to the hospital, Jessica was prepped for an emergency C-section.
"Fifteen minutes later, on St. Patrick's Day, our little bundle of joy arrived," Cody said. "We had our baby girl. Fortunately, the surgery went great. Jessica is currently recovering. By all means, everything went good with her. Her recovery is doing pretty well."
"We couldn't be any happier and we already can't wait until the next [baby] comes!"he added.
This is the first child for Jessica and the second for Cody, who has daughter Paisley from a previous relationship. The couple got married back in October, one month after announcing Jessica was pregnant with Maverick.
Jessica and Cody each posted some adorable family photos with Maverick. Check them out below!
RELATED STORY: 'Big Brother 19' Stars Jessica Graf & Cody Nickson Celebrate Their Wedding
(Photos: Matt Winkelmeyer/Getty Images; Instagram)