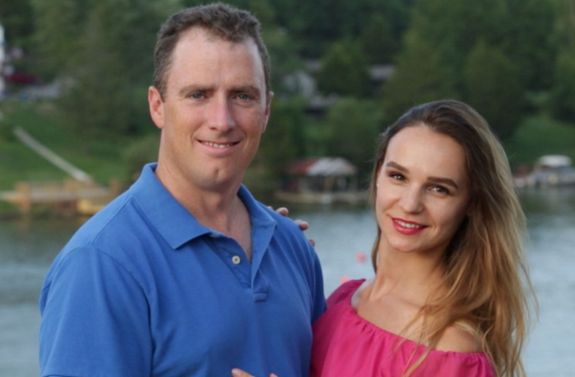 The 90 Day Fiance cast just keeps growing!
Season 4 couple Alla Fedoruk and Matt Ryan welcomed their first child together on Wednesday, Alla announced on Instagram.
The couple— who is currently starring on the "90 Day Fiance" Self-Quarantined spin-off, named their baby girl Emmalyn Grace Ryan, according to Alla's announcement, which was posted on Saturday.
"Welcome to this Wonderful World My Sweet Precious Girl," Alla captioned a photo of a baby hand. "Emmalyn Grace Ryan 04/29/2020."
Baby Emmalyn is the first child for Matt and second for Alla, who is the mother of 12-year-old Max, her son from a previous marriage.
Matt and Alla— who tend to stay relatively quiet on social media compared to other "90 Day Fiance" couples— first announced Alla's pregnancy back in February by posting some of their maternity photos. Right before Alla gave birth, Matt posted a photo of her, captioning the shot, "41+ weeks and still the sexiest women on the planet!"
View this post on Instagram
Matt and Alla appeared on Season 4 of "90 Day Fiance." The pair (hailing from Williamstown, Kentucky, and Kiev, Ukraine, respectively) met online and lost touch, during which time Matt married and divorced his third wife. Matt and Alla reconnected (as seen on the show) and went on to get married in November 2016. Their wedding was featured on "90 Day Fiance."
The couple resurfaced on the "Self-Quarantined" spin-off, revealing that the current global C0VID-19 pandemic has been hard for their family, with Matt having to quarantine away from Alla and Max, due to the fact that he was still working with the public.
Matt and Alla are just the latest couple from the "90 Day Fiance" franchise to welcome a baby. Last month, Season 3's Loren and Alexei Brovarnik welcomed a son, and several couples from the franchise have recently announced they're expecting, including Season 2's Evelyn and Justin Halas; Robert Springs and Anny Francisco of Season 7 and, most recently, Paul and Karine Staehle of 'Before the 90 Days.'
RELATED STORY: "90 Day Fiance" Couple Paul & Karine Staehle Are Reportedly Expecting Their Second Child
(Photos: TLC, Instagram)