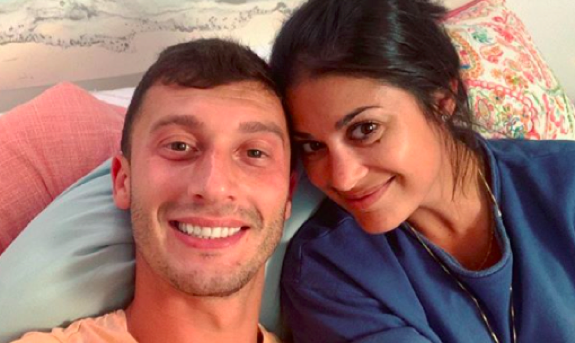 Meet the newest 90 Day Fiance cast member!
Franchise favorites Loren and Alexei Brovarnik welcomed their first child on Tuesday, TLC has confirmed. The couple—- who first appeared on the show's third season and later went on to star on the Pillow Talk and Happily Ever After? spin-offs—- have not announced their baby boy's name, but told fans it would be revealed after the bris and baby-naming ceremony are held.
The baby was born via C-section, a bit before his due date of May 6. According to TLC, he weighed in at 5lbs 10oz and measured 19 inches long.
Loren and Alexei both posted photos from the delivery room to their Instagram accounts, as well as some post-birth photos of Baby Brov. Both were shown wearing masks in the delivery room and post-delivery, due to the C0VID-19 pandemic.
"Mommy, daddy and baby are all doing great!" Loren wrote in the caption of a photo posted. "We will be sharing his name sometime next week… so be on the lookout! During these crazy times, this is the smile we needed! 🤙🏽Welcome BabyBrov 🤙🏽"
In a statement to TLC, Loren and Alexei described their first-time parent excitement.
"Everything happens and doesn't for a reason. We were meant to meet our baby boy earlier!" said the couple. "With everything going on right now with the virus, this is the smile and light we needed! BabyBrov made his grand debut on 4/14/20 at 4:26pm. We are so beyond in love with him and even more in love with each other!"
The couple— who will appear on "90 Day Fiance: What Now?" starting April 20— announced Loren's pregnancy back in October. In January, they celebrated more happy news when Alexei, who moved from Israel to be with Loren, officially became a United States citizen.
On Wednesday, Loren posted a video to Instagram Stories, giving an update on the family and thanking "90 Day Fiance" fans for their well wishes.
"I'm tired and recovering, and baby's doing great," she said. "Thank you so much, we're so, so excited and overjoyed! We appreciate you following along with us!"
#90DayFiance #90DayFiancePillowTalk #BabyBrov pic.twitter.com/vHO3CQbzOU

— John Yates (@JohnYates327) April 15, 2020
RELATED STORY: "90 Day Fiance" Season 7 Couple Robert Springs & Anny Francisco Are Expecting Their First Child Together
(Photos: TLC, Instagram)