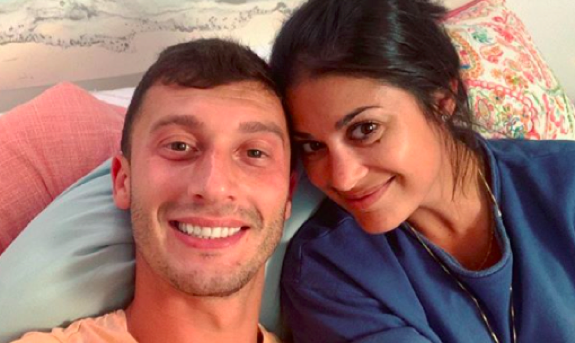 Another 90 Day Fiancé baby is on the way!
Loren and Alexei (Alex) Brovarnik of "90 Day Fiancé" Season 3 revealed to Us Weekly on Tuesday that they are expecting their first child together.
"It's a surreal moment in our lives," Loren told the magazine. "For me, I see a lot of people I know (personally) announcing their own exciting news and now it's my turn. I'm excited, terrified, over the moon, nervous and so much more! Alex is hands down the best partner I could have ever asked for during this time."
As for Alex, the soon-to-be father admitted he's "very excited and happy, but nervous and scared at the same time."
Loren and Alex have since shared their big news on social media, revealing that their baby is expected to arrive in in May 2020 and that they do not yet know the gender.
"We're so excited to finally say, BabyBrov is on its way! For those saying I'm pregnant, well, ding ding ding, we cannot wait to welcome our baby boy or girl this Spring," Loren captioned her Instagram post.
Alex shared similar snapshots of the couple (and Loren rocking a baby bump) on his own Instagram page, writing that he "couldn't be more excited, I am going to be a daddy!"
Loren and Alex met in Israel and currently live in Fort Lauderdale, Florida. They tied the knot in September 2015 in the United States and again in July 2016 in Israel to allow both of their families to be a part of their wedding celebrations.
The couple appeared on Seasons 1 and 2 of the "90 Day Fiance" spin-off 90 Day Fiance: Happily Ever After.
RELATED STORY: "90 Day Fiancé" Season 7 Premieres Next Month: Meet the New Couples!
(Photos: Instagram)