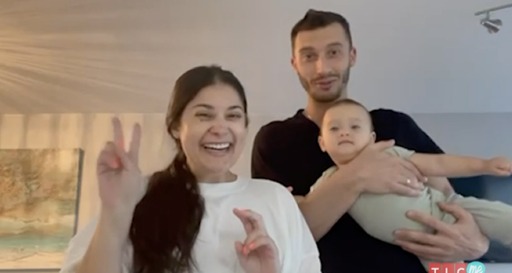 Baby Brov #2 has arrived!
Loren and Alexei Brovarnik welcomed their second child this week– another boy– "much earlier than expected." Loren shared the news of the 90 Day Fiance family's new addition Wednesday on social media, assuring fans the little one is "recovering well," despite his early arrival.
"Truly a Thankful Thursday," Loren wrote on Instagram. "Babyboten has arrived, much earlier than expected! Due to some circumstances, he is in the NICU, but recovering well. We can't wait to bring him home and start this next chapter as a family of 4!"
In a follow-up video, Loren told followers her baby boy arrived late Monday, almost matching his big brother Shai's birth weight.
" … We are so excited to bring Babyboten home and see Shai being the best big brother," the couple told TLCme. "Babyboten wanted to come into this world earlier than expected and on his own terms. He was a c-section baby, weighting a whopping 5lbs 7oz and 19 inches tall. We are so excited for this new chapter as a family of 4!"
"Babyboten" is not the baby's actual name. "Boten" means "peanut" in Hebrew, and is the nickname that Loren and Alexei gave the baby during Loren's pregnancy. They will likely announce the baby's name after his naming ceremony, just as they did when Shai was born.
Loren and Alexei welcomed their first child, Shai, in April 2020, documenting the pregnancy on 90 Day Fiancé: Self-Quarantined. (The two have also appeared on "90 Day" spinoffs Pillow Talk, Happily Ever After? and What Now?)
The two announced they were expecting their second child in March, admitting they were excited but also a little nervous about adding another baby to the Brov bunch.
"We can't believe we're doing it again," they said. "Honestly, we'd be lying if we said we weren't nervous. 2 under 2 is going to be quite an adjustment, but we are so excited for babybrov #2!"
RELATED STORY: Split? Paola Mayfield's Manager Confirms Paola & Husband Russ Are "Taking a Break" From Their Marriage, Days After Paola Hinted About a Breakup
(Photos: Instagram; TLC)