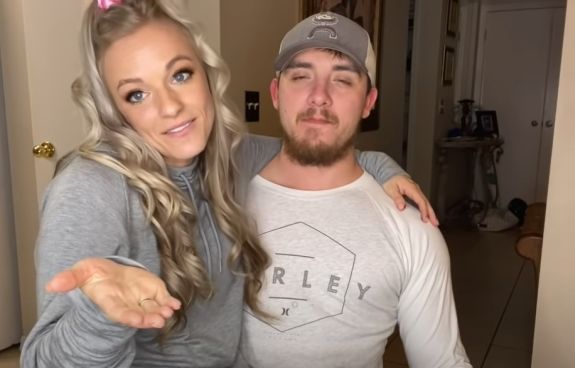 Mackenzie McKee is defending her marriage, giving thanks to infidelity, encouraging people to walk away from toxic relationships, and slamming Teen Mom OG editors after an anniversary post to her husband Josh McKee was met with criticism on social media.
Earlier this week, Mackenzie posted a series of photos to Instagram in honor of her and Josh's eighth wedding anniversary. While comments on the post have since been disabled, it didn't stop Mackenzie from taking to her Instagram Stories to complain about the backlash she initially received on the post.
In the series of Stories, shared by the Instagram page mtv_reality_tea, Mackenzie claimed that fans ask her why she doesn't "post about Josh," though when she finally did post something after more than a year-and-a-half, she was inundated with negative comments.
"Y'all it's exhausting," Mackenzie wrote. "Every freaking time."
The mom of three went on to tell fans the infidelities that have occurred within her marriage have actually improved her relationship.
"I'm glad I cheated on him and I'm glad he did what he did to me," Mackenzie wrote.
"We are no longer stuck in the same place we were. It helped us grow and move forward. I'm happy your marriage is perfect. But mine isn't and this is our story. And please stop saying I fought to keep him. Y'all I will NEVER fight for a man.
"The show is so off from how things really are. I'm not a weak bitc," Mack added.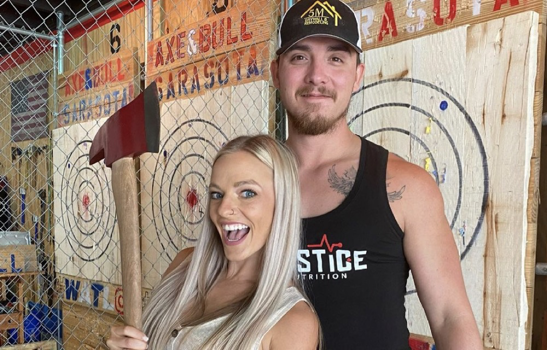 Mackenzie then encouraged her fans to move to Florida "walk away" from their own troubled marriages, as she claims she did by relocating her family– sans Josh– out of Oklahoma. As 'Teen Mom OG' viewers may remember, Josh eventually joined Mackenzie and the kids in the Sunshine State.
"Ladies, when times get tough, walk away," she wrote. "If it works out it was meant to be. Stop putting me in a category with the women who fight for a marriage. Who fights for a marriage? Not me. I will leave and if you don't come for me, BYE!!"
Mackenzie continued defending herself/her husband/her marriage, claiming she and Josh "met as literal children and grew through many seasons of life together."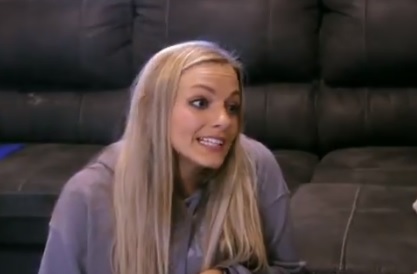 "He chose to forgive me and come work it out when I chose to walk away," she added. "So please allow me to simply post about my marriage. Josh and I live our life laughing together and have a better friendship than most of you [with a] 'perfect marriage that was always faithful' but TV makes us look ridiculous."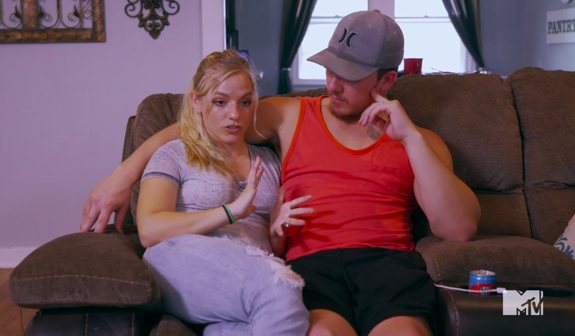 Mackenzie claims to have "spilled [her] guts on camera" talking about her own infidelity, only for the content to be edited out for 'Teen Mom OG' and in turn, Josh looking "like a damn cereal cheater."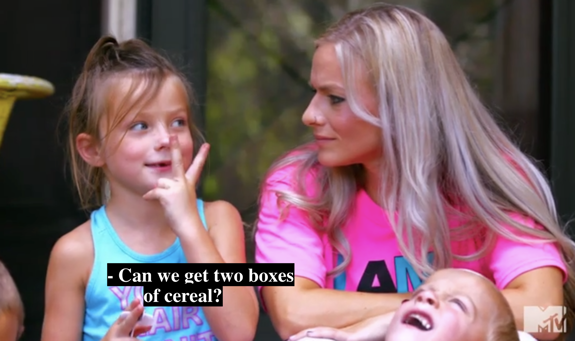 Mack's rant ended with some "food for thought"– and no, it wasn't "cereal."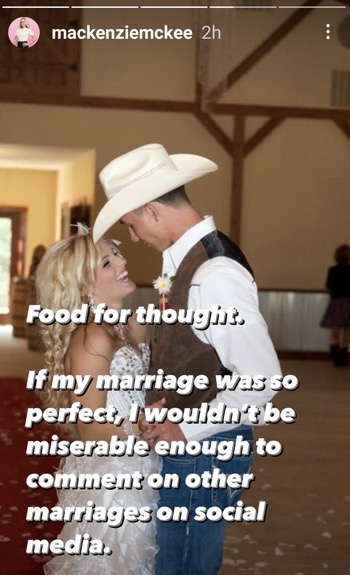 "If my marriage was so perfect, I wouldn't be miserable enough to comment on other marriages on social media," she wrote… presumably without proofreading.
RELATED STORY: Amber Portwood Says She's Reconciled With Ex Gary Shirley & Gary's Wife Kristina Since the Last Season of 'Teen Mom OG'
(Photos: Instagram; MTV)