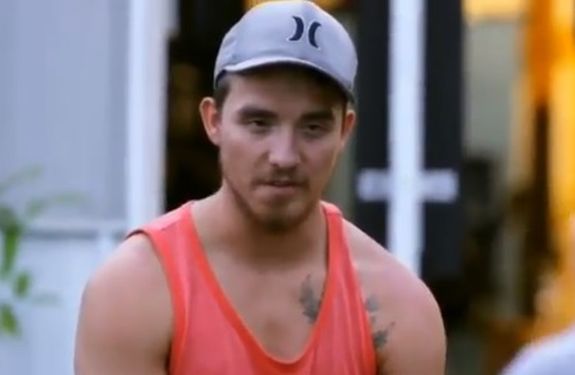 Less than two weeks after he was called out by his wife for allegedly having an affair with her cousin, Teen Mom OG dad Josh McKee, husband of Mackenzie McKee Douthit, is finally breaking his silence on the matter.
As The Ashley previously told you, Mackenzie claimed on Facebook that she had discovered her husband of seven years had once again cheated on her, this time with one of her close cousins. In the now-deleted Facebook post, Mackenzie vowed to leave Josh and her toxic marriage behind, writing, "Today is the day I walk away."
Josh had remained silent on the entire topic…until finally heading to Facebook to defend himself last week.
Not long after she exposed the alleged affair on social media, Mackenzie publicly admitted it was petty to blast Josh and her cousin on Facebook. She also seemed to shut down rumors that anything physical had happened between the two, referring to the incident as an "emotional affair" and going on to reveal that her marriage wasn't in good shape, even before she learned of the alleged affair.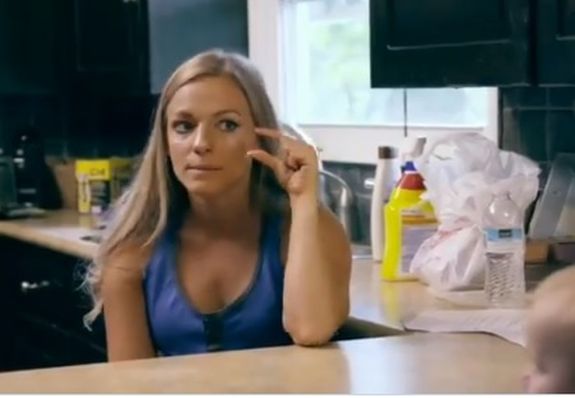 While it appears that Mackenzie is focused on doing damage control, Josh seems to want everyone to just mind their own business.
"Better worry about your own sins, cause God ain't gonna ask you about mine," he shared on Instagram, along with the caption, "I'm just here for the comments."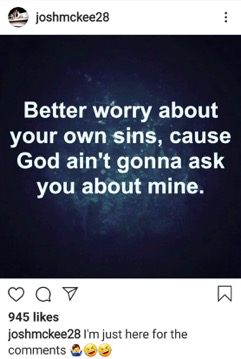 After receiving some criticism in the comment section of his post, Josh jumped in to let his followers know he's used to the backlash that comes with being on 'Teen Mom OG,' and told fans that they do not have all the facts.
"People, I've been through the ringer being on that damn show, this is nothing new to me," he said. "I get it you all are pissed at the fact of what you read on the internet or seen on TV. 'OK'? But if you are going to come at me with what little you all really know, know your damn facts! And know that this is not a one side ball game."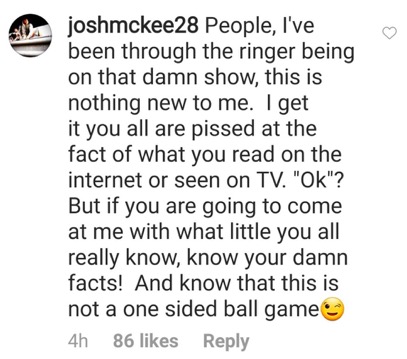 Josh's blunt response to his critics was met with some support, with one follower claiming "that show ruins marriages and everything else," encouraging the father of three to keep his head up.
Another one of Josh's supporters pointed out that MTV always "has to have a bad guy," comparing his role to that of Maci Bookout's ex Ryan Edwards or Chelsea Houska's ex Adam Lind.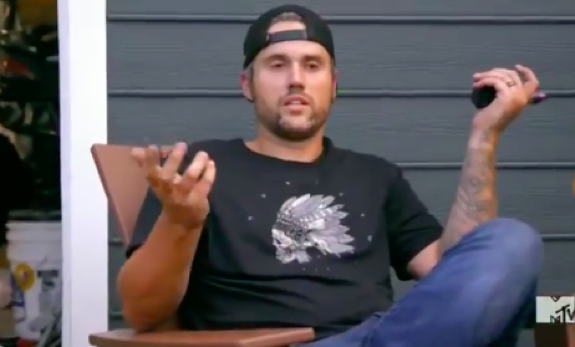 "Just sit back and soon someone else will be on the hot seat … ," they added.
It is unclear if Josh and Mackenzie are back together currently. On May 27, she posted a photo of the three kids she shares with Josh to Facebook, tagging him in the photo. (Josh liked the photo.) However, Mackenzie is still using her maiden name on social media.
On May 26— just a day before the lake photo was posted— Mackenzie made it seem like she was done with Josh for good.
"Next season will be my glow up," she tweeted. "No one is weighing me down or holding me back ever again. I love my children's father, I'm happy for his future, but man I'm excited for mine. Time to shine ….
RELATED STORY: 'Teen Mom 2' Star Kail Lowry Seemingly Comments on Jenelle Evans' Bikini Photo & Sets Off 'Teen Mom' Fat-Shaming Feud: A Complete Recap of Events
(Photos: Facebook; MTV; Instagram)