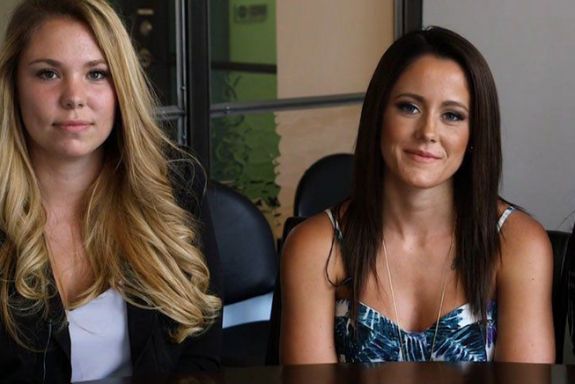 If you don't have anything nice to say, don't say anything at all… or join the Teen Mom franchise.
The latest social media firestorm between cast mates ignited when former Teen Mom 2 star Jenelle Evans posted a bikini photo to Instagram this week. While Jenelle's post may have been innocent, what followed was anything but! After some of Jenelle's followers commented on Jenelle's "weight gain," Kail Lowry called out Jenelle's husband, David Eason –- someone who has repeatedly "fat-shamed" Kail (and other cast members) in the past.
From there, Jenelle, David and various random 'Teen Mom' stars inserted themselves into the drama. (Hell, even Debz OG got a piece of the action!) Instagram Stories were posted, exclusive interviews were given and it became one giant ding-dang fat-shaming showdown!
Here, The Ashley will attempt to recap all of the events of the past few days as they unfolded.
First, here's the photo that started all the ruckus. It was posted by Jenelle on Wednesday…
A lot of the comments left on the post had to do with Jenelle's weight. (The comments were both positive and negative.) Kail apparently saw the post and decided to call attention to the fact that David has called out other 'Teen Mom' cast members in the past for being "fat" or gaining weight.
"I don't know who needs to hear this, but David better never come for my body ever again," Kail tweeted on Wednesday.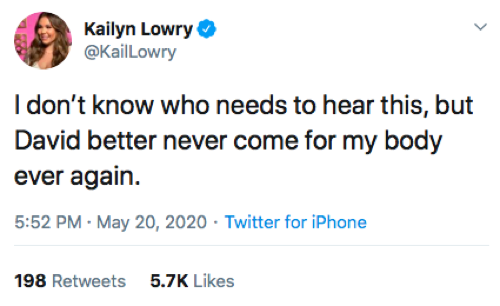 Never one to back down from an argument, Jenelle responded to Kail, calling her a giant and challenging to her to "stand side by side" for comparison. She also made some digs about Kail cheating on her ex-husband, Javi Marrioquin.
"IDK who needs to hear this but you're a giant compared to me," she wrote. "Let's stand side by side. Don't let me start talking about you. Cheating on Javi and telling my mom while you got your makeup done. But oh, everyone just finds out now? I told everyone this a long time ago. Wow, so much to say but let me stop lol."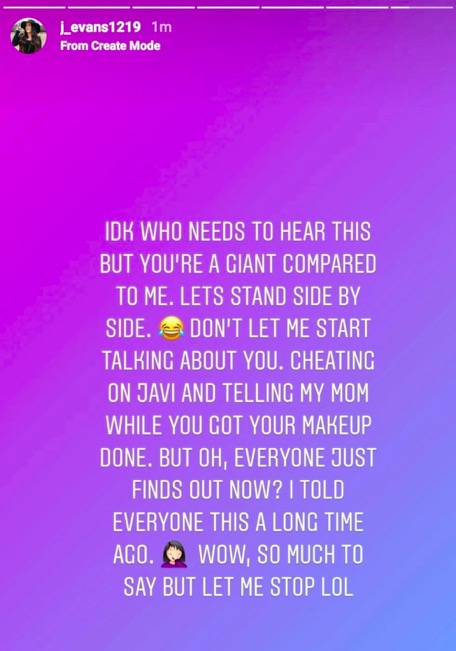 (Several of Jenelle's haters reposted Jenelle's message on Twitter, bringing up the fact that Jenelle herself recently cheated on David with her short-lived Boston bootycall, Herb Wilkinson.)
In a follow-up post, Jenelle questioned why Kail was "still worried" about her, being that she's no longer on 'Teen Mom 2'. She told Kail to focus on herself and her family and to "stop stalking" her. While she should've stopped there, Jenelle chose to flaunt her allegedly happy marriage and family instead.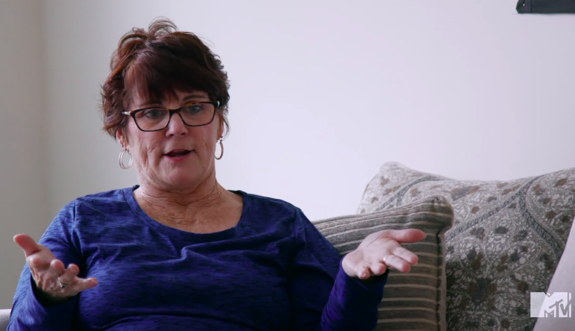 "And at the end of the day… I have a husband that loves me unconditionally and my family is happy," she added. "That's all that matters. #FamilyFirst"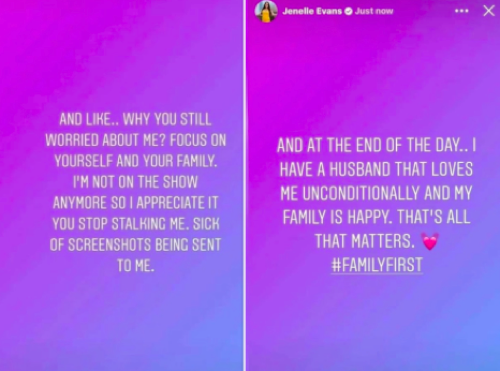 Jenelle then ran to her various social media accounts and claimed that she was "so sick of social media bulls**t." (Isn't it ironic…don't ya think?) This, of course, didn't stop her from hitting up the Twitter machine once again to remind everyone that Kail is pretty much obsessed with her (according to her).
"How do you block someone out of your life completely and they are still commenting about your life," she asked. "Let's just look opposite directions and act like we never met. Thanks!"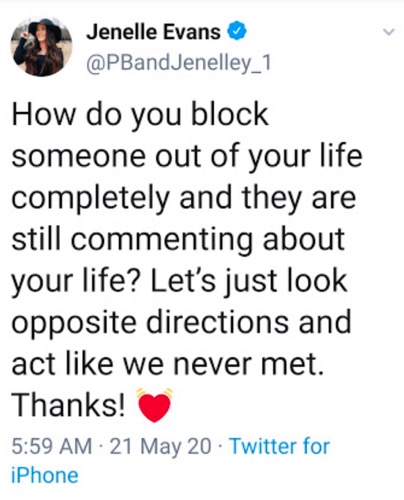 Eventually, a few of Jenelle and Kail's 'Teen Mom' co-stars decided they had nothing better to do with their time to get involved in the fat-shaming feud, starting with Briana DeJesus, who took a jab at her nemesis Kail for a maternity photo she previously revealed. (You know… the photo of Kail oddly chilling naked in a barn with a horse? Yeah, that one.)
"That girl lost after that horse photo," Briana tweeted. "Sorry! Leave [Jenelle] alone."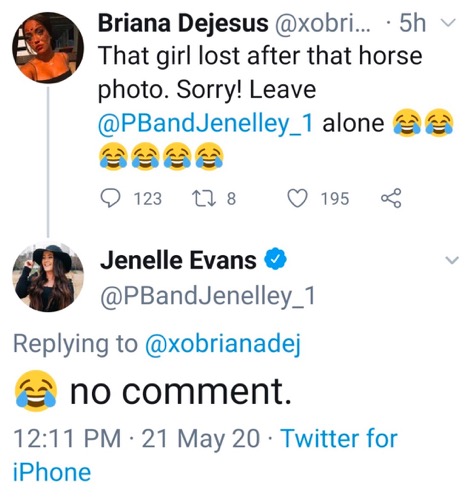 Kail responded to Briana's tweet, claiming that David was the intended target of her online insult, not Jenelle.
"Let me just be clear," Kail said. "I said what I said directed to David and only David. Whatever y'all deduced on your own is on you."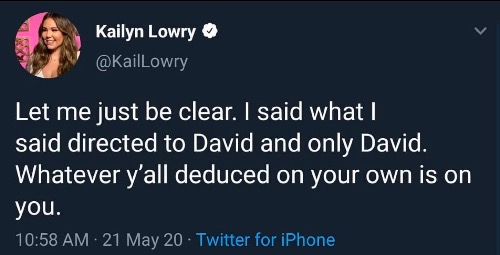 And speaking Jenelle's other half, he jumped in the online feud as well, replying to Kail's original tweet in a very on-brand way.
"Ummm… I feel sorry for anyone that ever 'came for your body,'" he wrote. "Trust me, I wouldn't touch you with a 10 ft pole."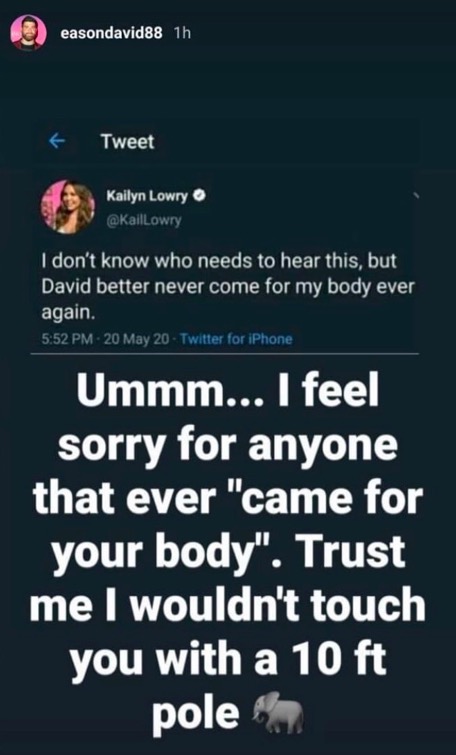 After taking a moment to think, David fired off a second message for Kail.
"Oh, you can call my wife fat and tell me not to say anything about you in the same sentence? Right."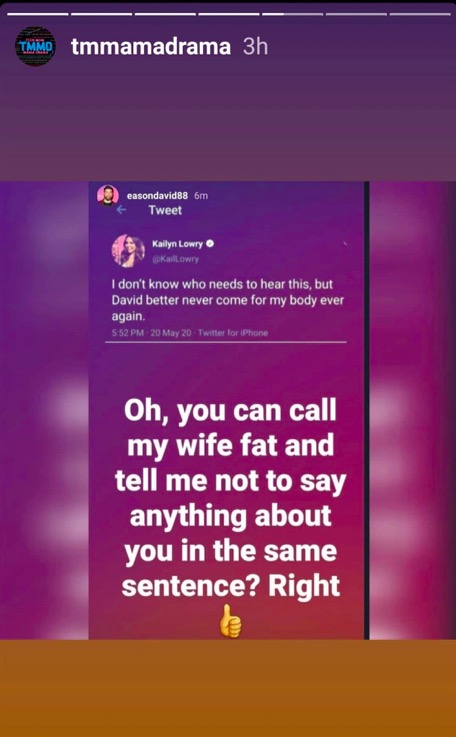 After having been accused of "losing" by Briana, Kail hit back with a series of Instagram posts touting her accomplishments, including a seemingly Jenelle-and-David-specific dig in which she posted family photos, noting that she has custody of all of her kids. (As 'Teen Mom' fans know, Jenelle does not have custody of her oldest son, Jace, and David has no custody or relationship with his son Kaden.)
🐎🐎🐎 pic.twitter.com/tGtruNTGaa

— Teen Mom Mama Drama ™ (@TMMamaDrama) May 21, 2020
And then, because everyone in the ding-dang 'Teen Mom' universe felt the need to weigh in on the feud, former 'Teen Mom' grandma Debra "Debz OG" Danielsen sent some words of support to Kail (despite having recently accused Kail on social media of not believing in C0VID-19).
"[Kail] thank you for showing strength during difficult time," Debra wrote. "It truly helps others going through rough times too. Sorry you have to go thru this crap! xoxo #metoo #freedom #nomorefear
@KailLowry thank you for showing strength during difficult times! It truly helps others going through rough times too. Sorry you have to go thru this crap! xoxo #metoo #freedom #nomorefear https://t.co/PN4So4FcSH

— Debra Danielsen (@ddanielsen) May 21, 2020
Mackenzie McKee Douthit also chimed in on Thursday night, in an attempt to make everyone get along… we think?
"There is a beautiful reason we are made all different shapes colors and sizes," she tweeted. "Makes life and each individual so unique and special. but how cute is it that we as evil humans take it to make fun of each other for the way God designed our bodies. #stopthebodyshaming"
There is a beautiful reason we are made all different shapes colors and sizes. Makes life and each individual so Unique and special. But how cute is it that we as evil humans take it to make fun of eachother for the way God designed our bodies. #stopthebodyshaming

— Mackenzie Douthit (@DouthitKenzie) May 21, 2020
As for Jenelle, she appears to be as comfortable in her skin as David in a store that sells firearms. Just this week, she shared a throwback photo of herself from 2016 on Facebook, telling her followers it was from four years ago, back when she worried about what she ate.
"I'll take my body with any weight," she added.
When asked during an Instagram Q&A why she had "gained weight," Jenelle explained that she has "just been chilling at home and not going anywhere" and that she doesn't care to workout right now.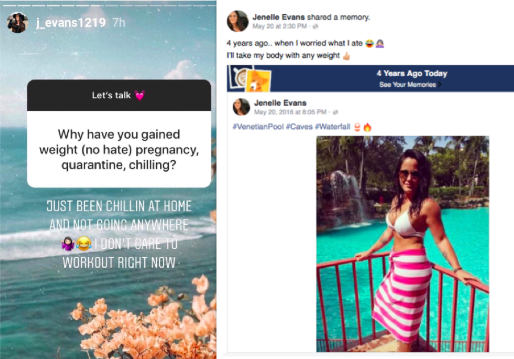 Naturally, both sides posted clickbait articles about the feud to their social media accounts. (Gotta make that quarantine cash money, ya know!) Jenelle even did an exclusive interview with The Sun about how woman shouldn't shame each other and should instead cheer each other on.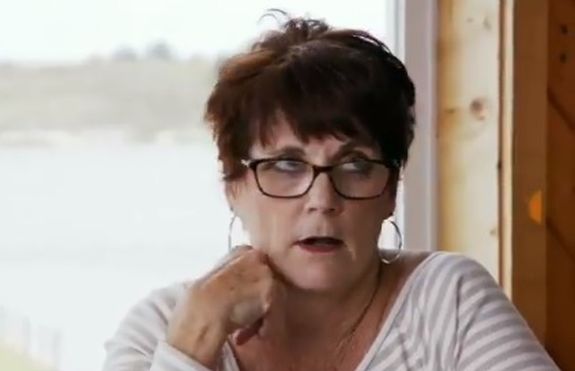 "I think that everyone needs to stop being bullies to one another and actually cheer women on!" Jenelle told The Sun. "No one should be pressured into a 'certain weight.' I'm not trying to impress anyone, just striving to remain happy."
That's all…for now! Stay tuned; The Ashley will update this if any more jabs are thrown and/or if any other random cast members decide to weigh in!
RELATED STORY: 'Teen Mom' Leah Messer Reveals in New Book That Her Daughter Addie Was Conceived After Night of Skinny Dipping with Jeremy Calvert, Kail Lowry & Javi Marroquin
(Photos: Instagram; Twitter; Facebook)