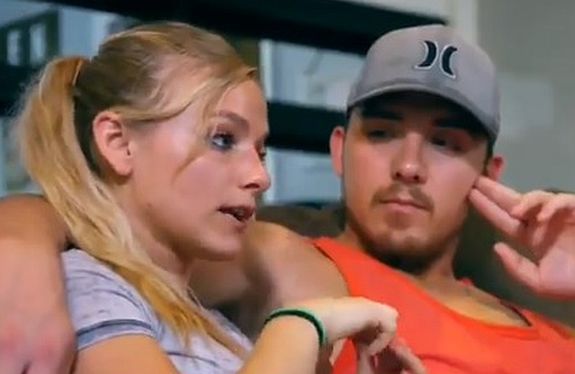 Mackenzie McKee Douthit's marriage has once again hit the skids and, once again, it's due to her husband Josh's alleged infidelity.
The Teen Mom OG star— who is currently using her maiden name "Douthit" on social media— posted a long message to her private Facebook earlier this week, detailing how she discovered that her husband of seven years was having another affair, this time allegedly with one of Mackenzie's close cousins.
In the since-deleted post, which Mackenzie begins by stating "this isn't a pity party," she describes how she forgave Josh for having an affair last year. (The aftermath of that affair— which happened 'round back of the Texas bar Billy Bob's with a random girl— is currently playing out on 'Teen Mom OG.') After admitting his infidelity to Mack, Josh proposed to her again and became a born-again Christian, much to Mackenzie and her mother Angie's delight.
"Obviously the world knows Josh had an affair last year, and then months later repurposed, promising he changed and got "saved," Mackenzie wrote. "It really made my mom happy, and I chose to forgive and trust God. She was so proud of him…"
(Mackenzie's mother Angie died in December 2019 after a battle with cancer.)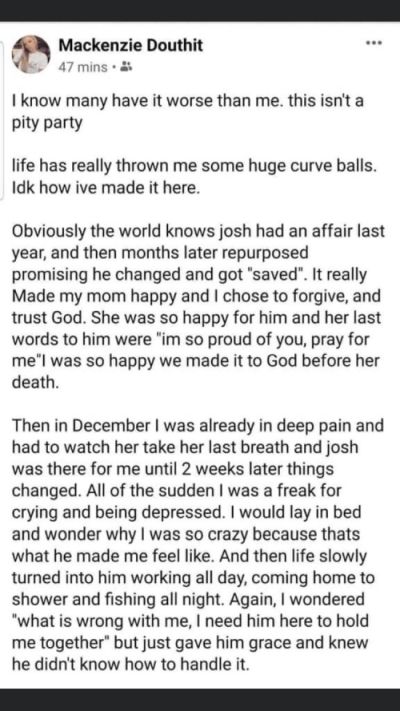 Mackenzie went on to detail how Josh was not supportive of her while she was grieving the loss of her mom, often making her feel "crazy."
"And then life slowly turned into him working all day, coming home to shower and fishing all night."
While the couple has remained in a state of limbo over the last few months, Mackenzie wrote that everything came to a head this week when she discovered Josh had allegedly been cheating on her again, with this affair dating back to December— the same month Angie died.
"So yesterday I made the random decision to pull Josh's call and texts logs," Mackenzie wrote. "To find out that one week after my mom died, when he started leaving and changing his behavior,' to find he was texting a woman 3-600 times per month and calling her on these nights he was 'fishing' until 3 a.m.
"Obviously [he was having] another affair. So I go to call the number and it was my close cousin Ashley."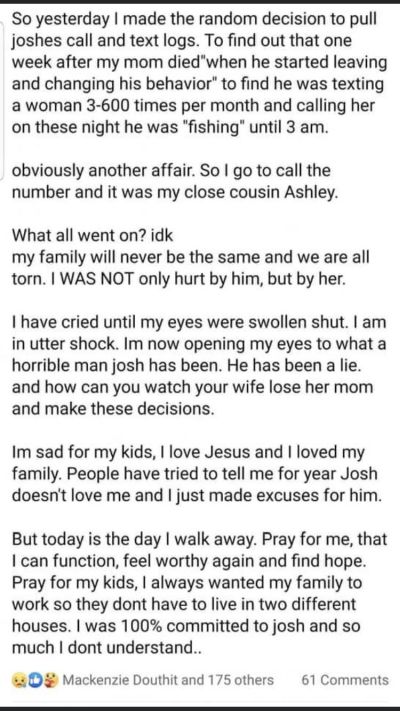 Mackenzie said that the affair has torn her family apart.
"What all went on? IDK," she wrote. "My family will never be the same and we are all torn. I was not only hurt by him but by her."
Mackenzie then went on to state that she is now realizing "what a horrible man Josh has been."
"He has been a lie," she wrote. "How can you watch your wife lose her mom and make these decisions? I'm sad for my kids. I love Jesus and I loved my family. People have tried to tell me for year(s) that Josh doesn't love me but I just made excuses for him."
Mackenzie vowed to leave Josh and the toxic relationship behind.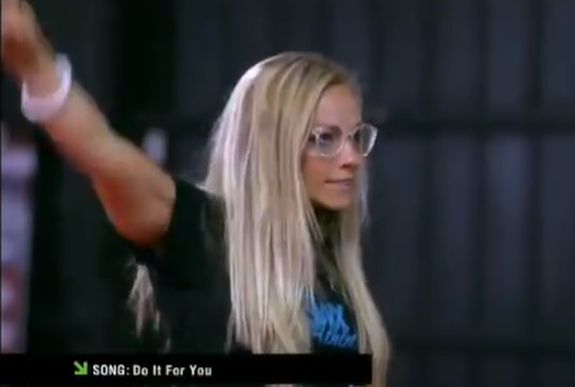 "Today is the day I walk away," she wrote. "Pray for me, that I can function, feel worthy again and find hope…I was 100 percent committed to Josh and [there's] so much I don't understand…"
The Ashley had seen the screenshots of the deleted post floating around, but was waiting to post about it until Mackenzie confirmed that it was legit. On Wednesday, she posted a link to a story about the affair, along with confirmation.
"It's true," she wrote.
(She even turned it into a clickbait "swipe up" opportunity…)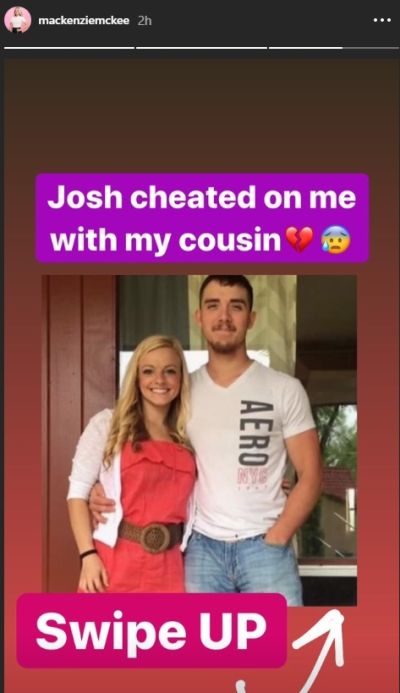 She then began responding to fans' comments about Josh on Twitter.
"Does Josh talk?" one person asked her. "He just sits there and mumbles once in a while. Mackenzie seems pretty mature, why is she with this loser? U can do much better!"
"I 100% agree," Mackenzie replied.
"10 years of my life….. literally. Nothing to him," she told another person.
"Mackenzie & her 'husband' has the weirdest relationship they act like friends," one fan wrote.
"Literally all that we are. No love here sis," Mack replied.
Mackenzie also deleted nearly all photos of Josh from her Instagram account. (Mackenzie is still very present on Josh's Instagram account, as of press time.)
He has yet to make any sort of public statement.
As for the cousin that Mackenzie identified in her post, her Instagram is currently set to private and (surprise, surprise) she is still being followed at press time by Josh. (Mackenzie no longer follows her.)
The Ashley has reached out to Mackenzie for comment but has not yet heard back.
Stay tuned…
RELATED STORY: 'Teen Mom' News Pile: Farrah Abraham Gets Busted, The Beaver Bunch Gets Down & More
(Photo: MTV, Instagram)