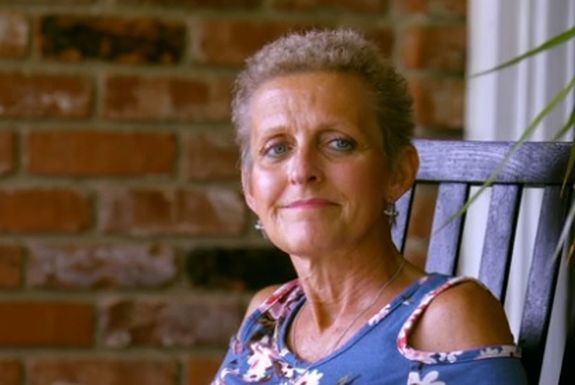 Angie Douthit's two-year battle with Stage 4 cancer ended on Monday night.
The mother of Teen Mom OG star Mackenzie McKee has died, her family reported on Instagram on Tuesday. Angie— who appeared on Mackenzie's episode of 16 & Pregnant, as well as on Teen Mom 3 and Teen Mom OG— was only 50 years old. Her death comes just days after Angie told her social media followers that she was stopping all cancer treatments and would be entering hospice care.
On Angie's Instagram account– which Angie used to post inspirational messages and updates on her cancer journey— her family broke the news of Angie's death.
"On Monday, December 9 at 11:37 pm, Angie finished her race," the family posted as a caption of a photo of Angie finishing a marathon before being diagnosed with cancer. "Her last days were spent lovingly surrounded by family and friends as they prayed, sang, and shared funny Angie stories.
"Angie found out about her cancer in January 2018. She wanted to keep everyone informed of what was going on so she made a social media post. The next day she made another. And then another. And what started as an easy way to convey information turned into wildfire of hope that spread over the world.
"She wasn't able to sleep an entire night so she would wake up around 3am to write her posts. We watched her get up everyday in the darkest hours of the night to spread the brightest light that she knew of, her Savior Jesus Christ. There were times when she wrote her posts through pain and confusion. There were times at the end when she couldn't type and would ask her daughters to type for her but she would not give up spreading the gospel message of hope. In nearly two years, she never missed her daily post…tomorrow she will."
"But this is where you pick up the baton and run like she did mighty warrior. You can choose this day to be like Angie and use your social media engagements to make a difference rather than disaster, to spread love and not hate, and to always be kind."
Throughout her entire battle with cancer, Angie remained optimistic and strong, inspiring her 110,000 Instagram followers daily. Angie wrote a book about her cancer journey called God's Plan, which was released in March.
Mackenzie posted a tribute to her mother on Tuesday, vowing to make her proud.
"Momma @angiedouthit has crossed the finish line. She did not lose the battle, she one. She is healed and running in heaven in eternity. Idk anyone who left earth with such an impact," Mackenzie wrote. "Your entire life you never wasted a chance to let the world know Gods love. When we would try to brag on what an amazing person you are you would respond with 'it's not me, it's God.' Could you imagine this world if we all lived like Angie Douthit.
"Momma, i did not deserve you. But you loved me so unconditionally. You were the glue that held me together. The one who always believed in me. Idk what I will do without you but I hope this goes by fast so I can hurry and come be with you. You passed a torch down to us and I will not fail you. I will live for Christ and love like him like you always taught me. I will make you proud momma."
Angie is survived by Mackenzie and her siblings; her husband Brad (who was her childhood sweetheart), her parents, grandkids, former students (she was a third grade teacher), and countless friends and fans.
After news of Angie's passing broke, Mackenzie and her family received plenty of love and condolences from the 'Teen Mom' cast via Twitter. (The Ashley is only including the messages that were not posted alongside a clickbait link.)
"My heart breaks for @DouthitKenzie and her family during this time. Please help Angie meet her goal," Kristina Shirley tweeted, along with the paypal address fans can donate to.
"[Mackenzie] I am sooo sorry for the loss of your mother… thinking of you and the family," Catelynn Lowell wrote.
"I am certainly older and lost my parents many years ago, but my heart goes out to @DouthitKenzie because I can still feel the pain of the loss of a parent," Randy Houska tweeted. "It is a helpless feeling and one feels like there will be no end to it. Eventually memories bring smiles instead of tears."
"Angie and their entire family have been an amazing part of our Teen Mom family for nearly a decade now," 'Teen Mom' editor Mike Stern posted. "My heart goes out to them, and we're all thinking of Angie every day…"
Last week, Mackenzie posted that she and her family were trying to raise enough money to pay off her parents' home, as Angie was worried about leaving Mackenzie's father, Brad, with a mortgage. If you would like to donate, you can do so via Paypal by sending money to the email address here: bodybymac1994@gmail.com.
(Photos: MTV; Instagram)