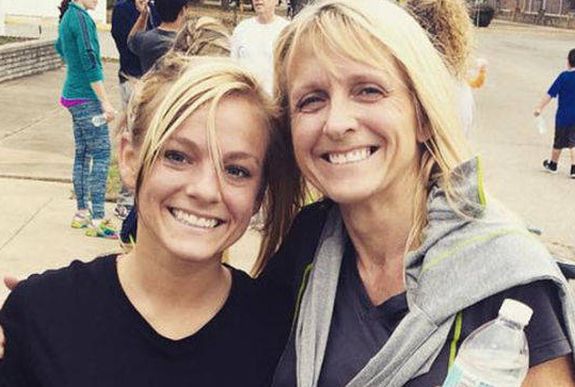 Mackenzie and her mom, Angie…Former 16 and Pregnant and Teen Mom 3 star Mackenzie McKee has shared the news that her mother's cancer has unfortunately worsened.
In an Instagram post originally posted by Mackenzie's mom, Angie Douthit, Mackenzie shared an update on her mom's cancer battle, which began in January of 2018 when Angie was diagnosed with Stage 4 brain and lung cancer. Sadly, in her most recent post, Angie told followers that she found out yesterday that her cancer has "gone wild."
Angie explained in her post that the recent results of her scan were not what she and her family had hoped for.
"I wish I could say that I'm in remission, or that the cancer has vanished," she explained. "But instead this is what we were told. Basically the cancer has gone wild. I have new tumors in my brain and the old ones are growing. The tumors in both my lungs are progressing and growing again. I have three tumors in my liver. It's in my lymph nodes. And low and behold, it's in my bones, my breast bone and both of my femurs."
Angie went on to say that she was shocked, however, she "knew things were strange" because of her recent need to take headache medicine and other pain relievers twice a day to alleviate her head and body pain. Despite that, she said she "wouldn't have ever guessed this."
As 'Teen Mom' fans may recall, Mackenzie opened up about her mom's cancer battle during a 'Teen Mom' special that aired last fall. At the time, Mackenzie revealed that her mom's cancer, which started in her lungs and spread to her brain, was terminal and incurable but that her mom was undergoing treatment. By the time the special aired, Angie's cancer had spread to her adrenal gland and her pelvic bone.
Both Angie and Mackenzie have continued to update followers via social media on Angie's cancer journey, often talking about their faith and welcoming prayers from those keeping up with their family. Angie's most recent update featured that same positive message, as she told followers that she and her husband, Brad, drove home after getting her results thanking God that she was still alive. She said the family also gathered and "prayed diligently together."
"I pray that I can always have a sound mind and that I can continue speaking until God is finished with me," she added.
Angie said the next step in her journey may be a liver biopsy, then possibly more radiation and chemo.
"I'll do whatever God leads me to do," she said.
As always, Angie ended her post with some positive words to her followers and reminded them that she is not done fighting this battle.
"I appreciate all of your incredible prayers. Please continue to be kind and forgiving. Please do not get mad at God. This is all part of his plan. He can heal if he wants to. But, we must praise him no matter what. God is not through with me yet! #alwaysbekind #staystrongmightywarrior #itsonlycancer."
(Photos: Instagram)