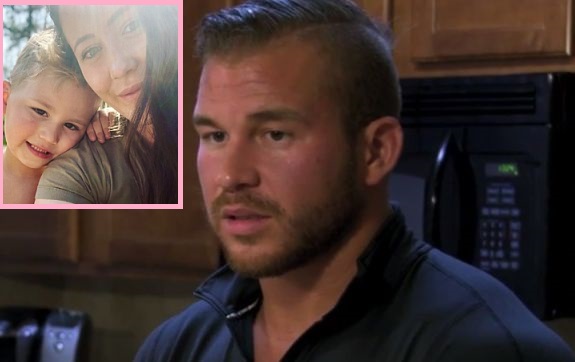 Nathan Griffith is speaking out following the death of Jenelle Evans' dog at the hands of her husband, David Eason, letting concerned Teen Mom 2 fans that he is trying to get Kaiser– the son he shares with Jenelle– away from David.
"I am very concerned for Kaiser and Jenelle," Nathan told The Ashley in an exclusive interview. "The day the story broke [on Tuesday], I was frantic. I tried to reach out to Jenelle but she wouldn't respond, I called everyone I could think of– the MTV producers, CPS and the police to do a welfare check on my son."
Nathan confirms to The Ashley that he was not the initial caller who called 911 to report that David had shot Jenelle's dog, Nugget, though.
"I called the police for a welfare check after I heard about what happened [via the Radar Online article]," Nathan said.
Nathan states that he was so concerned after hearing reports about the dog being shot in or around Jenelle's home on The Land, he even called David.
"I tried to get a hold of David, I said 'I'm not trying to argue but we need to talk. What is going on? Is there another story I'm not hearing what is going on?'" Nathan said, adding that he wanted David to have a chance to tell his side of the story, in case the media had it wrong.
"I've been in a relationship with Jenelle, and I know there always two sides to these stories, so I wanted to make sure this was legit. But David will not talk to me. He doesn't understand that I don't care about what they do in their relationship, unless it affects my son. And this [incident] affects my son."
Jenelle has confirmed that Kaiser (as well as her daughter Ensley and David's daughter Maryssa) were home at the time David killed her dog.
As of Thursday afternoon, Kaiser is with Nathan for the weekend, and Nathan says that he is continuing to fight for full custody of the boy.
View this post on Instagram
"It's been a year since I filed for custody, it's a process. I can't just run over there and grab my son. If I could, believe me I would. I have been trying everything I can [to get custody of Kaiser.] I try to communicate with Jenelle, but she refuses to communicate with me. I'm not a bad guy," Nathan said.
"If Jenelle reached out and needed help, I would be there and I have told her that many times. She is the mother of my child. It doesn't mean anything romantic, it means she's my son's mother I will go to war for her. I just want to be sure that she and Kaiser are OK."
Jenelle and Nathan are due to meet in custody court on May 30. As The Ashley previously told you, the hearing has been rescheduled several times now by several of the lawyers and the judge and can no longer be rescheduled.
Nathan is expecting certain stipulations to be met when he goes to court for him to be happy.
Nathan states that he has been in contact with the 'Teen Mom 2' producers in regard to the incident, and states that those associated with MTV have told Jenelle they are ready and willing to help her, if she needs it.
"This whole situation is toxic," Nathan said.
(Photos: Instagram; MTV)