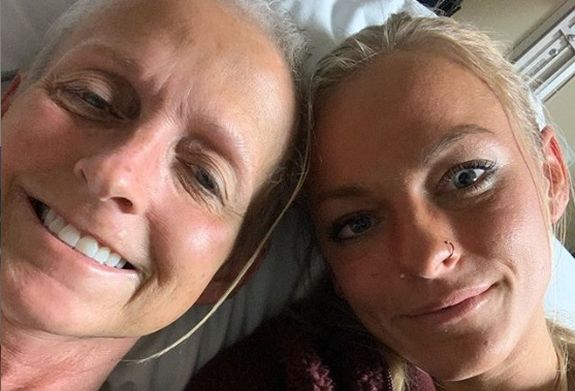 Mackenzie McKee recently shared a heartbreaking update on her mom, Angie Douthit, who has been battling Stage 4 cancer since January 2018.
On Friday, the Teen Mom OG star asked her fans to pray for her mom and the rest of her family, writing that Angie has been in the hospital and that she and her family are hoping Angie makes it to Christmas.
"As many know, she was diagnosed with cancer a few years ago- and every day for two years (well it will be two years Jan 2nd)- she has made a motivational post at 3:30 AM on the dot," Mackenzie said on her Instagram Stories. "And this is her first morning she hasn't. She's in the hospital. Things have grown, things are not looking good, and we will be celebrating Christmas early as a family this year."
In an Instagram update posted on Friday (with the help of her daughter), Angie revealed that her cancer has grown substantially and that she will no longer be undergoing treatment. She will soon be moving into hospice care.
"Today was a little rough. Scans showed results that were not good. The cancer has grown in the liver and in the brain," Angie wrote. "There is also some hemorrhaging in the brain. I will have two more doses of radiation and that will be the last treatment I will be given. I should be able to go home in the next few days. We have decided to have hospice come in when I go home for some extra care. I haven't been able to open my eyes all day and my head has been hurting badly. Kaylee has had to help me write this post.
"I'm not sure what to say… other than How God told me early in my diagnoses that He would heal me but I would have a long dark journey to take. I'm starting to think this is what He meant by long dark journey. So please pray for me that I will be strong and be able to stop vomiting. Also please pray that I will be a mighty warrior for Christ. I love every one of you. I thank you so much for your prayers."
On Twitter, Mackenzie asked fans to pray for Angie to not be in pain anymore.
"Everything hurts right now and she is miserable," Mackenzie wrote.
Angie— whom we first met on Mackenzie's 16 and Pregnant episode before she moved to Teen Mom 3 and then Teen Mom OG— has kept her fans updated on her cancer journey through Instagram. She also wrote a book called God's Plan, which was released in March 2019.
After Mackenzie shared the update on her mom, many fans were eager to help with donations. Mackenzie shared that her family hoped to be able to pay off the home that Mackenzie's parents live in.
"She has a fear of leaving my Dad with a house bill," Mackenzie shared on Instagram. "My entire life my Mom was a school teacher. She owned a daycare, she was a school teacher. My Dad's been a custodian since I was born. They've- I lived in the same house my entire life. They still live in that same house. I think they've been there for 28-30 years. I don't know.
"But you guys really, really helped me and I have so many followers that if everyone could give me one penny it would be enough to pay her house off," she added. "I know it's Christmas time. My Dad does not want to see a Go Fund Me. He thinks that's asking- he doesn't want her to be worried. He wants to probably sell the house and move, but she wants him to be able to stay there. It's their house. It's what they've lived in. It's what they had the daycare in."
Mackenzie also shared a paypal email address that fans could use to donate.
We do not have a go fund me set up. But her Angie's race PayPal is still there. This is the email to it. I can't believe how generous everyone is being with donations, I am in tears. pic.twitter.com/i5yafS7XP4

— Mackenzie McKee (@DouthitKenzie) December 6, 2019
If you'd like to donate (via Paypal) to help Angie, you can do so by sending it to bodybymac1994@gmail.com.
(Photos: Instagram)