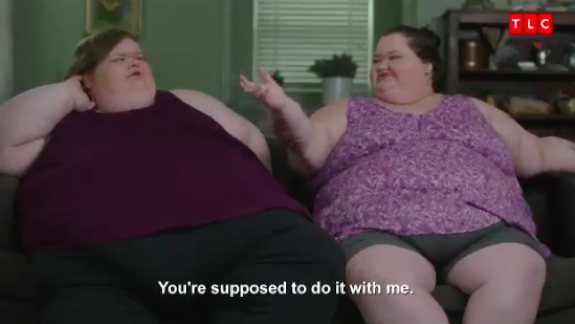 YouTuber Amy Slaton is taking her act from the video-sharing website to TLC as she teams up with her sister Tammy Slaton for a new series titled 1000-Lb Sisters.
Starcasm reports that in the six-episode season, the Kentucky-born Slaton sisters will work together in the hope of losing enough weight to qualify for bariatric surgery. At 406 and 605 lbs., respectively, Amy and Tammy tip the scales at more than 1,000 lbs. together (hence the show's title).
Throughout the series, viewers will also see each sister work towards their individual goals — 31-year-old Amy wants to start a family with her husband but cannot get pregnant due to her weight and health issues, according to the Discovery press release. Meanwhile, 32-year-old Tammy currently lives with her sister and brother-in-law and needs help with everyday tasks, but she dreams of living independently and finding a love interest of her own.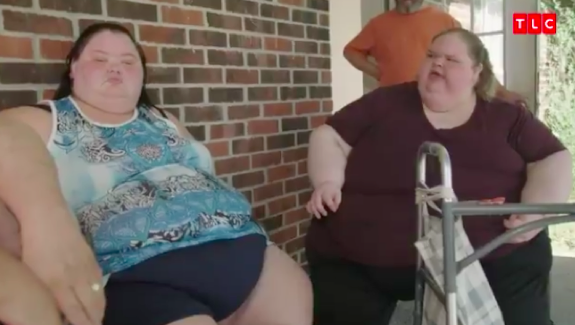 "The docuseries will follow them every step of the way, from appointments with their doctor and navigating the challenges of eating healthier and moving more, to finding out if they qualify for surgery and having the procedure if they do," the press release reads.
"Whether it's sampling exercise equipment like thigh masters and shake weights or cutting back on unusual culinary treats they enjoy creating like 'dressed bananas' (bananas dipped in Miracle Whip dressing and rolled in chopped peanuts), the sisters learn and laugh as they try to embrace a healthy lifestyle."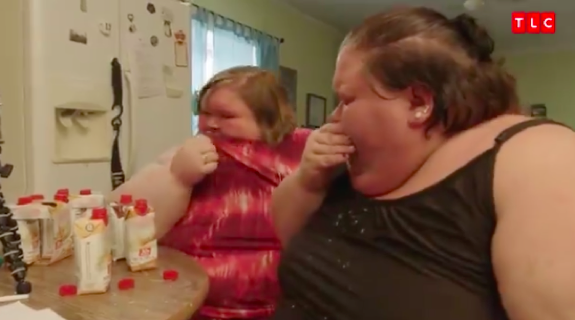 In the trailer released by TLC, we learn that the sisters will face another obstacle during their weight loss journey: not losing it on each other.
The series premiere of '1000-Lb Sisters' airs Wednesday, January 1 on TLC. Check out the trailer below!
Sisters Amy and Tammy have an unbreakable bond. Now their weight loss journey could push them to the limit. Tune in to the series premiere of #1000lbSisters Wednesday, January 1 at 10/9c. pic.twitter.com/vZjmezKvFs

— TLC Network (@TLC) December 4, 2019
(Photos: TLC, Twitter)