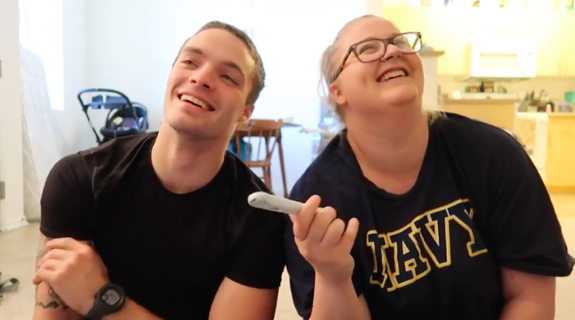 Laura Barron and Tylor Strawmyer are "unexpectedly" growing their family… yet again!
Just six months after welcoming their second son, Leo, the former Unexpected couple has revealed they are expecting baby number three. (The two are also parents to two-year-old Lucas.)
Laura shared the big news on Instagram, telling her followers that baby number three is "coming December 2020." Her post featured a photo of herself and Tylor kissing while holding up a positive pregnancy test.
https://www.instagram.com/p/CAYlTJ6D1sZ/?utm_source=ig_web_copy_link
Laura also shared Tylor's reaction to her latest pregnancy on the couple's YouTube channel. During the video, Laura reveals that she and Tylor were not trying for baby number three and that she's nervous to share the news with Tylor.
Laura decides during filming to reveal her "unexpected" (pun intended) pregnancy to Tylor while pretending that they're doing a Q&A for their YouTube channel. After answering a couple of decoy questions, Laura and Tylor are "asked" if they plan to have any more kids. When Tylor jokingly says "in nine months," Laura whips the positive pregnancy test out of her pocket, much to Tylor's surprise.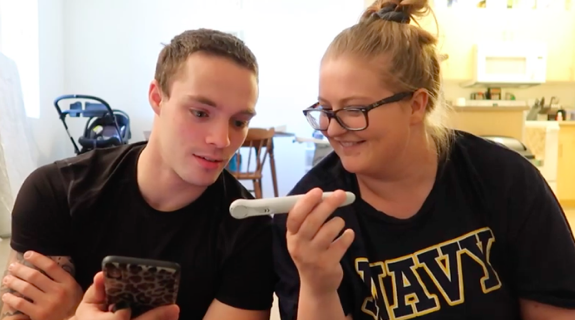 As the video goes on, Laura shares via texts that while her pregnancy was not planned, both she and Tylor are excited to grow their family once again.
Laura– who just turned 20— and Tylor appeared on 'Unexpected' Season 2 but said in December 2018 that they were not asked back for Season 3. They got married in July 2018, shortly before Tylor joined the Navy.
Tylor is still in the Navy and Laura has been picking up extra cash lately by selling very elicit sexy time photos and videos on her OnlyFans site, including an alleged sex tape featuring Tylor. (The Ashley has not viewed this tape, though, and cannot confirm its existence, but it was listed on Laura's OnlyFans site for a while as a purchase option.)
She recently deleted her account, though.
(If you're still jonesing for some sexy time 'Unexpected' stuff, cast member McKayla Adkins has an active OnlyFans account, as do several other members of the cast.)
Anyway, if you're not into watching that kind of video, you can watch Laura's pregnancy announcement video below:
RELATED STORY: 'Unexpected' Mom Hailey "Hailey 2" Tilford Gives Update on Her Son Levi & Friendship with "Hailey 1" Tomlinson: Says Matthew Blevins is Still Denying Paternity of Levi
(Photos: YouTube; Instagram)