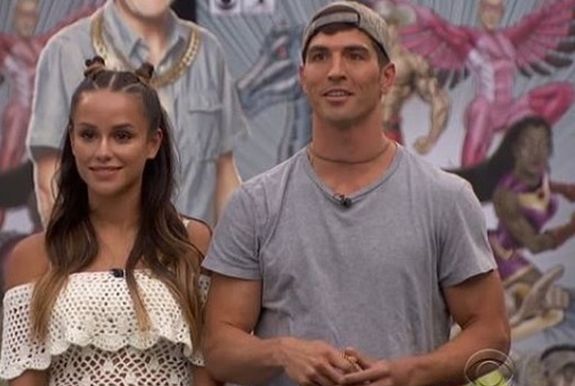 Big Brother stars Jessica Graf and Cody Nickson have taken their "showmance" to the next level!
The couple, who met on last summer's 'Big Brother 19,' got married on Sunday at Saddleback Ranch in Malibu, California.
People magazine reports that Jessica and Cody exchanged "I do's" in front of about 100 guests, including their 'BB19' co-stars Mark Jensen and Elena Davies. The couple– who got engaged in February— announced last month that they are expecting their first child.
Jessica (and her baby bump) wore a silk gown with a long train. (Thankfully, she did not wear her 'Big Brother' signature cat ears to the wedding.) As for Cody, he chose to wear a tuxedo…and cowboy boots.
Cody's six-year-old daughter Paisley served as the flowergirl and wore pink, while the rest of the bridal party wore black. (The wedding guests were instructed to wear black as well.)
"I know that's very untraditional, but I like the picturesque feel of it all," Jessica said of the black attire.
Robyn Kass, who is the head of 'Big Brother' casting, was given the honor of officiating the wedding. Following the ceremony, Jessica and Cody danced their first dance as husband and wife to the song "Shut Up and Dance."
"He sang it to me when we were in the 'Big Brother' house, and we danced to it, and, it just always sat in the back of my mind as one of our special moments," Jessica told People.
Jessica and Cody treated their guests to a donut wall, late-night pizza and a four-foot wedding cake.
The couple, who is expecting their baby in April 2019, will next head to a honeymoon in Bora Bora before moving into their home in Texas. (That prize money they won on The Amazing Race is certainly coming in handy, apparently!)
Jessica told the magazine that they are planning on having a big family.
"In five years I am going to be on baby probably number three and exhausted," she said. "And, hopefully still pretty."
RELATED STORY: Watch 'Big Brother 19' Star Cody Nickson Propose to Jessica Graf in This Adorable Video 
(Photos: CBS, Instagram)