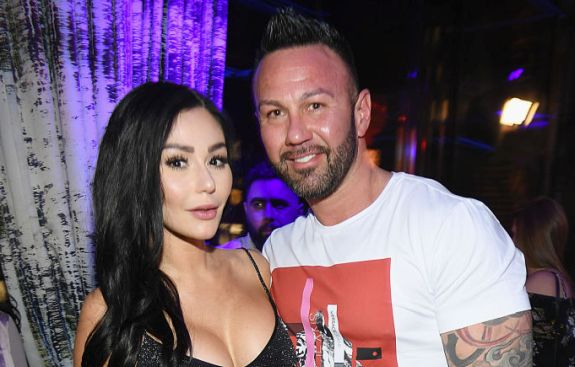 Roger Mathews seems to be making good on his promise to try to woo back his estranged wife, Jenni "JWoww" Farley.
The Jersey Shore couple celebrated their third wedding anniversary on Saturday (a few days ahead of their actual October 18 wedding date). Roger posted several photos of their outing to Instagram and Instagram stories, showing him and Jenni enjoying a romantic dinner. He even surprised Jenni with a ride in a horse-drawn carriage.
"Rome wasn't built in a day," Roger captioned a photo of himself and Jenni at dinner, obviously a nod to the fact that he is trying to save him marriage.
As The Ashley previously reported, Jenni filed for divorce from Roger last month, stating in court documents that their marriage had been on the rocks for at least six month before the September 12 divorce filing.
"The Plaintiff and the Defendant have irreconcilable differences which have caused the breakdown of the marriage for a period of at least six months which make it appear that the marriage should be dissolved and that there is no prospect of reconciliation," the complaint read, according to Ashbury Park Press.
After the news of the divorce broke, Roger took to Instagram to inform 'Jersey Shore' fans that Jenni had, indeed, filed for divorce.
"I don't blame her," Roger said in the Instagram video. "There's no cheating or any dumb s**t or any juicy details. She just grew tired of the repetitive pattern that we fell into."
In the same video, he vowed to try to save his marriage.
"Here's what's also true," Roger said. "I'm not done fighting. I'm going to win my wife back. I'm going to win her affection back. I'm going to win her love back. I have no intention of being a single dad. We're in counseling so there is hope. It ain't over until the fat lady sings."
In the comment section of the anniversary photo posts, 'Jersey Shore' fans encouraged Roger to try to win Jenni back.
"Yes! Keep fighting for your woman Roger," one fan told him in the comment section of the photo.
"I love a man who fights for love, marriage and his family!" another person wrote.
Jenni did not post about the anniversary activities, and has remained relatively silent regarding her reasons for filing for divorce.
The couple shares two children together: daughter Meilani and son Greyson.
Watch Roger surprise Jenni with the carriage ride in the video below!
RELATED STORY: 'Jersey Shore' Star Jenni "JWOWW" Farley Has Filed For Divorce From Roger Mathews
(Photos: Dave Kotinsky/Getty Images; Instagram)