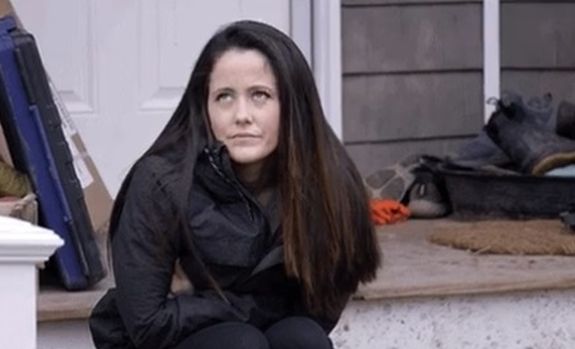 Earlier this week Jenelle Evans told her Instagram followers that her scenes during the next season of Teen Mom 2 will be "boring," ranting that she is now just a "prop in the background" during filming. The Ashley's behind-the-scenes sources tell her there's a reason Jenelle is so upset.
"Simply put, MTV is taking no crap from Jenelle this season," The Ashley's behind-the-scenes source says. "They have finally laid down the law and are enforcing all of the terms of Jenelle's contract. They basically told her they don't care what she's filming, but she needs to film. This has never happened before. They've always worked around her tantrums, but not anymore." 
"Let's continue boring ass lunches and hardly speaking on camera!" Jenelle wrote on Instagram stories this week. "I love it. Bet everyone else will love this season too. #BORING #TeenMom2 #Distant #NotMe
"I'm just a prop in the background #TeenMom2," Jenelle added.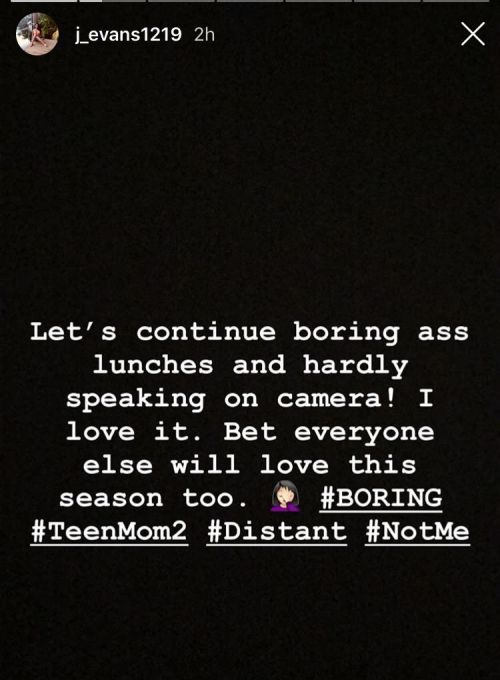 The Ashley's sources discussed how the filming of Season 9 has been very different for Jenelle than the filming of the previous eight seasons were.
"For years, Jenelle wasted everyone's time, throwing tantrums, refusing to film during scheduled film dates, and going over her filming day budget every season," another source told The Ashley. "This season, MTV is not accepting any excuses from Jenelle and making her film [on scheduled film dates], no matter what. And Jenelle's pissed.
"It got so bad," the source added, remembering a previous incident. "Once, Jenelle got angry, refused to film and threw and broke her phone. She wouldn't film until [MTV] went out and bought her a new phone. They did buy her the phone, too, anything to get her to film. So this is the sort of treatment she's used to… up until this point at least."
Plus, the sources say, Jenelle is unhappy about who she has to film with for Season 9.
"Jenelle is still mad that [her husband] David [Eason] isn't allowed to film or be around while Jenelle is filming," another source tells The Ashley. "She is actually shocked that, for once, she did not get her way."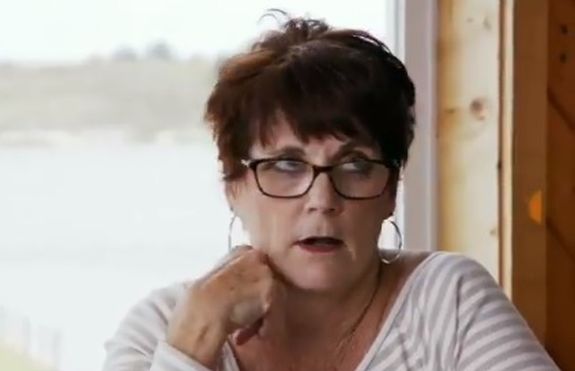 "She's also mad that she only has a few people she can film with now, since David is no longer allowed on set. She has little to no parts of her life that David isn't involved in so it's very hard for everyone to figure out what to film," the source added. "She basically has one or two random 'friends' and [her mother] Barbara to film scenes with now."
(The Ashley hears that Jenelle and Barbara are getting along splendidly these days, by the way.)
The first source tells The Ashley that, over the past few weeks, Jenelle has "been on her best behavior," showing up to film, leaving David at home and being relatively quiet (at least compared to previous seasons).
This is likely because, last month, when she tried to get out of filming, the producers immediately put a stop to it.
"She tried to get out of filming by texting the crew at the last minute, saying she wasn't going to film that day, just like she used to," the source said. "The producers have all been told to tell Jenelle that if she doesn't want to film on a scheduled day they have to get the lawyers involved."
(By the way, "the lawyers" refers to MTV legal, as well as Jenelle's lawyer who helped her negotiate her Season 9 contract.)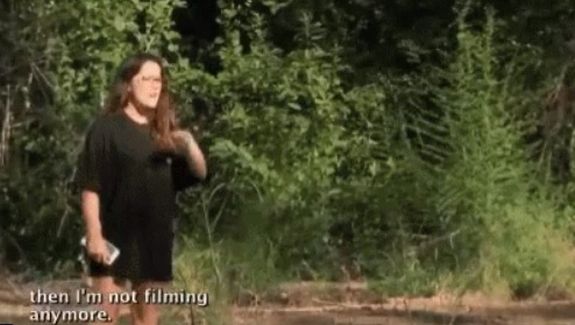 "Her crew told her that they would have to get legal involved and Jenelle showed up 10 minutes later to film," the source said. "She's not happy about it, so ranting about how 'boring' the season will be is kind of her way of rebelling. Because she can't rebel like she used to because she knows MTV is not playing anymore."
As The Ashley previously told you, Jenelle caused a huge headache for MTV legal and the show's producers by refusing to sign on for Season 9, hoping that MTV would agree to a list of her demands. (Many of these demands involved David and/or having weapons while filming, naturally…)
"Since then, MTV has been enforcing the rules," one of the sources tells The Ashley. "She kind of did it to herself by trying to play hardball and always getting her lawyer involved."
The Ashley hears that MTV is also cracking down on Jenelle in order to keep the filming schedule on-track and the expenses down.
"[In past seasons], Jenelle always went over filming budget," the behind-the-scenes source says. "Each girl is allotted a certain number of days to film for each season. Once you hit that number of shoot days for a girl, it causes problems for the producers and network.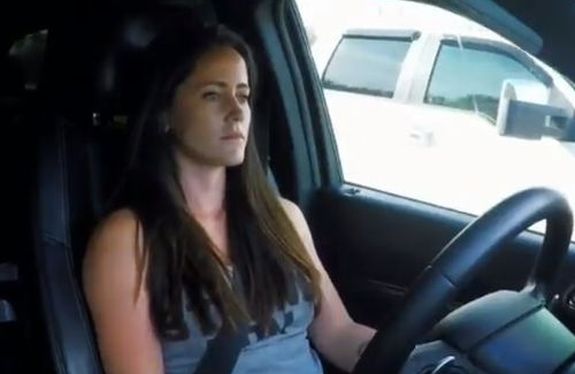 "There were times in past seasons that a crew would be flown to North Carolina to film with Jenelle and she would refuse to film, or make them wait hours before filming," the source said. "MTV still has to pay the crew, pay for their travel, etc, even if the girl doesn't film. MTV is done with that."
Both sources tell The Ashley that MTV is not just cracking down when it comes to Jenelle.
"Everyone is done taking crap from the girls. It's gone on too long and gotten way out of control," one source said. "The producers have made it clear to everyone that if you step out of line too often, you're done. It has been such a relief to the crew."
The Ashley will update this story when she has more info…
(Photos: MTV)