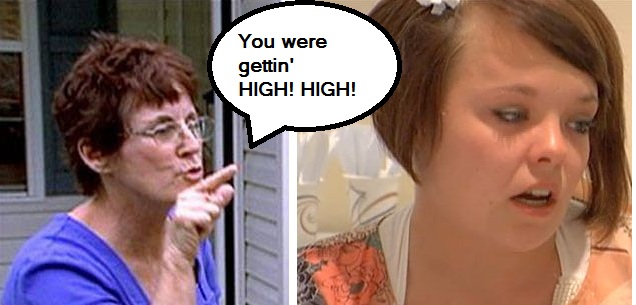 A Teen Mom star being busted for smoking pot is hardly breaking news…unless it's the one girl that everyone thought could do no wrong!
This morning, TMZ posted a photo of angelic 'Teen Mom' star Catelynn Lowell getting "High! High" at a party this summer. This picture was probably snapped by a "friend" of Catelynn's, without her knowledge. (She seems to be concentrating hard on the task at hand.)
Of course, if this was a photo of Teen Mom 2 star Jenelle Evans using a bong, it probably wouldn't have even registered on the gossip blogs. But because it was Catelynn, who, until this point has portrayed a squeaky clean image, the story snowballed.
In attempt to protect his client's good-girl image, Catelynn's manager (she has a manager now?) said he could not "confirm the validity" of the photo. (Um…whatever you say, buddy!) He also released a statement to TMZ regarding Cate's smoke session:
"Like many other young adults, Catelynn, at times, struggles with making the best decisions for her health and career. As her manager, I have strongly advised her to exercise good judgment at all times. She must learn from her mistakes. This will serve as a teachable moment in her development as a young woman."
Catelynn and Tyler voiced their own opinions about the "scandal" by retweeting quotes on Twitter.
"Forget about the past, it's done. Make yourself a brighter future by focusing on the present," Catelynn retweeted.
Tyler, on the other hand, seemed downright angry at the betrayal.
"I've said it once, and I'll say it again and again and again. People are WAY too f**king shady," he tweeted after the news broke.
This is the second time in recent months that someone close to the couple has sold them out. In July, Catelynn's own mother (the fabulous April Baltierra) sold her daughter out to a tabloid, claiming Catelynn was pregnant.
The Ashley thinks this whole thing is kind of ridiculous. While Tyler and Catelynn do actually seem to be really nice people, with motivation to better themselves, they aren't perfect. They, like most of us, do things that are dumb sometimes.
The Ashley hopes that Catelynn has learned her lesson. I'm not talking about the pot, either. I could care less if the girl wants to get all hopped up on the wacky tobaccy. I just hope she learned that once you become a celebrity, everyone is watching you, all the time. There are no private moments, and you can't trust anyone, even your own family.
This is sad, but true. The Ashley still thinks Catelynn is a great role model, and it's going to take a lot more than a little pot to change her mind. That being said…
Just say no! Hugs not drugs! Remember kids…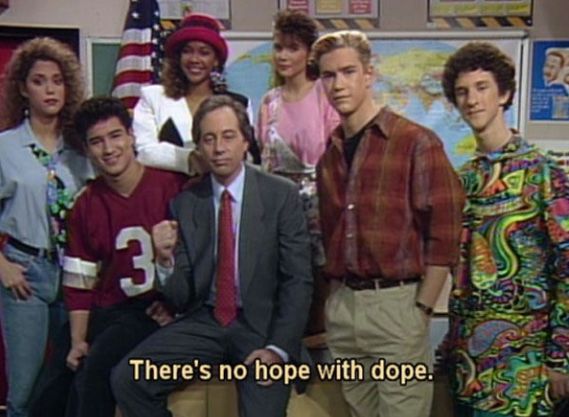 Word.
(Photos: MTV)