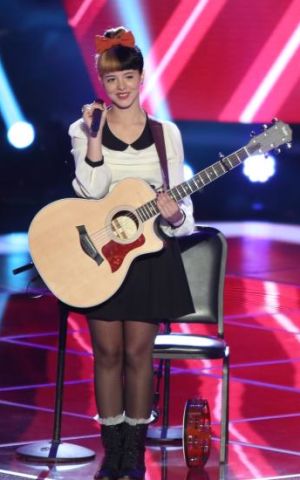 The Ashley was captivated by a pixy-like girl that appeared on The Voice last night. (See? The Ashley does watch shows that don't involve pregnant teenagers or drunk and drunken 20-somethings!)
Melanie Martinez ended up stealing the show last night. From her cute little bun topped with a giant bow, to her two-toned bangs, to her captivating voice, The Ashley was hooked! Apparently, so was most of America because, by this morning, Melanie's sexy, slowed-down version of Britney Spears' "Toxic" had already made it to #10 on the iTunes charts! (Click here to watch her audition!)
So who is Melanie Martinez? She's a 17-year-old student from Baldwin High School in Long Island, New York. Up until her stint on 'The Voice,' Melanie's biggest claim to fame was winning the Baldwin High Talent Show during her sophomore year and performing in the local MSG Talent Show. She's been a fixture at Long Island club open-mic nights for years.
In addition to playing guitar, she also plays the ukulele, tambourine and the harmonica. (Fun fact: The Ashley also plays the harmonica!)
Anyway, The Ashley was left wanting more of Melanie's singing, so she searched around and found a few other songs she has done, a few really good cover songs and the adorable music video below, which was shot by her boyfriend.
Other than Melanie, the only standout from last night's episode was a guy named Cupid, who just happened to be responsible for the 2007 cult classic "Cupid Shuffle," which haunts The Ashley at pretty much every wedding she goes to. (Seriously, this song makes my skin crawl. Whenever I hear it at a wedding, I want to drown myself in the champagne fountain. I do, however, enjoy making fun of all the knuckleheads that scramble out of their chairs to the dance floor as soon as they hear this song and pretend like they actually know how to do the dance.)
Anyway, this knucklehead tells us that he wants to be known as something other than "the guy that sings 'The Cupid Shuffle.'" To do this, he decides that he will sing…."The Cupid Shuffle" for the judges.
Um….did I miss something here? That's like getting completely wasted to prove that you're not a drunk.
Anyway, here's more Melanie! We'll be seeing even more of her very soon, as she was picked up by Team Adam! Check out her other songs on her YouTube channel by clicking here. Some of her original songs are really, really good!
(Photo: NBC)