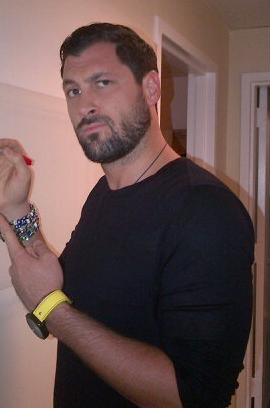 Bombshell alert!
Maksim Chmerkovskiy has announced that after 15 seasons, he is leaving Dancing With the Stars! This came as a shocker to not only the show's fans, but NBC execs, who Maks failed to inform of his decision before he went public with it!
The New York Post just broke the story that Maks will leave the show after his contract expires after next season.
"What else do I have to do there after 15 seasons?" he told The Post. "It makes total sense. The audience can't expect for me to want to stick around, and the producers can't expect for me to want to stick around."
No, but they'd probably appreciate it if you'd have mention it to first!
Maks' decision to leave the show is in part because he says he's tired of being upstaged by his celebrity 'Dancing' partners.
"Essentially, 80% of our job is to give somebody another push in their career," he said. "Or we make them into likable characters. But at the end of the day, they go off and they better themselves.
"I loved doing it. But to be honest with you, at 32, I am at what-about-me time."
Maks may be leaving 'Dancing,' but he's not stepping out of the spotlight. He told The Post that he plans pursue acting, and has already landed a role in a major movie that's set to start filming in January. He's also considering doing a reality show with his brother, Val.
The show's resident bad boy has had his share of scandals with the show's producers and judges, and he's ready to move away from the drama.
"I wish [the show] the next 50 years of success," he said. "But I have to do something else. I need to move on for me."
(Photo: Twitter)