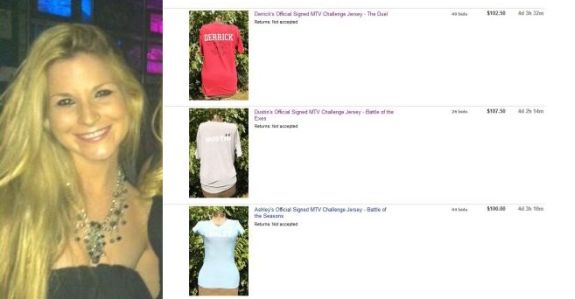 They may be compete against each other on a reality show, but when it's time to help one of their own, the stars of MTV's The Challenge join together and step up!
Many of the show's most popular players, including Derrick Kosinski, Sarah Rice and host TJ Lavin, donated signed shirts and attire that they wore on various seasons of the show to raise money for fellow 'Challenge' contestant Diem Brown. Diem, who started a patient gift registry called MedGift after being diagnosed with ovarian cancer at age 23, was recently told that her cancer has come back.
Items for sale on the eBay auction include several official 'Challenge' flags, a T-shirt from "Mr. Beautiful" Kenny Santucci's "Suck Yeah" clothing line, and even Cara Maria's signed booty shorts! The item that currently has the most bids is a T-shirt worn by Dustin Zito, star of Real World: Back to Las Vegas and The Challenge: Battle of the Exes. (The price for that shirt is already up to nearly $190!)
All of the proceeds will go to help Diem and her charity.
The Ashley is a big fan of Diem, and has been following her most-recent battle with cancer by reading the weekly blog she's been doing for People.
To check out all of the items up for sale, click here!
(Photo: Twitter, eBay)