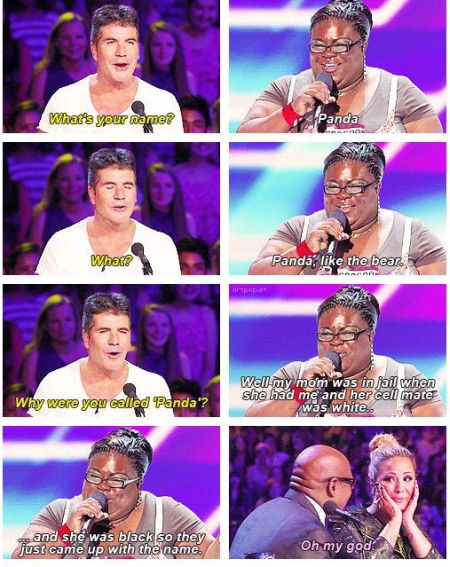 Why was The Ashley watching The Voice when this little piece of wonderful-ness was happening over on The X-Factor last week?! Apparently a woman named Panda Ross (yes, that's her real name!) auditioned for the judges, bringing down the house by singing a Sam Cooke classic. As you can see from the photo above, she also explained her very…interesting…name choice.
The 42-year-old got (almost) everything she wanted out of her appearance on 'X-Factor:' she made it through to the next round, and has gotten nearly 300,000 views on her YouTube videos since the show.  Still, she wasn't able to achieve one of her goals, which was to win the affections of judge Simon Cowell.
Despite the fact that she wore a necklace with a giant, glittery "SINGLE" pendant on it to let him know she was available, and promised that she would make Simon "her baby-daddy," she was not able to score a date with him, nor become his baby-momma. He, did, however tell her, "You sound like a legend. I absolutely love you. I've always wanted a panda."
She had to "bust herself" out of the hospital to be at the audition, after being hit with a case of "the pneumonia," but clearly her escape efforts paid off!
The Ashley can not wait to see Panda in the next round. She is reality TV gold!
Watch her full audition below!

(Photo collage by Nowaygirl.com)