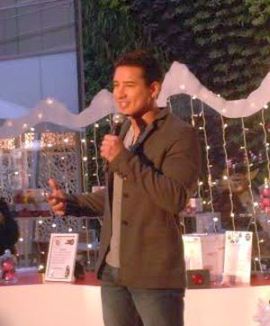 The third season of X Factor will come to an end tonight, when the last three acts: Carlito Olivero, Jeff Gutt and Alex and Sierra, will battle it out to see who will be crowned the champ. While last night's performance finale managed to pull decent ratings, this season has struggled to gain the following it had in the previous two seasons.
Although Simon Cowell has promised that the show will return for a fourth season, news just broke that two-time judge Demi Lovato is leaving the show.
With the show's future uncertain, and shakeups happening seemingly every day, what does the man behind the mic, host Mario Lopez, think of it all? The Ashley caught up with Mario (who appeared on The Ashley's all-time favorite show, Saved by the Bell….and wore these pants) at the Nescafe Dolce Gusto tree-lighting event in Los Angeles last weekend to find out!
The Ashley: With all the craziness going on with 'X Factor' right now, do you think it will get renewed for another season?
Mario Lopez: Well, I certainly hope so! But we'll see, it's television so you never know what's going to happen but I have a great time on it so I certainly hope so.
The Ashley: Do you have a favorite of the remaining contestants?

Mario Lopez: I love all of them. I really think America did a great job selecting a nice mix. [You have] sort of a modern-day Cher, a rock guy and then sort of a Latino Chris Brown. It's different and I like it; I'm interested to see which way it's going to go! I'd listen to all of them.
The Ashley: Last season you co-hosted X Factor with Khloe Kardashian. This season was your first hosting solo. How was it hosting without Khloe? 
Mario Lopez: Well I host a lot of stuff by myself so there's nothing weird about it. I like Khloe a lot, she's sweet and we get along great.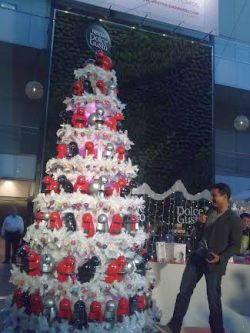 The Ashley: So I've got to ask– did you get the infamous Kardashian Christmas card this year?
Mario Lopez: We did get the card! We actually went to their Christmas party last year, as a matter of fact. It's a good time!
The Ashley: What's next for you, career-wise? 
Mario Lopez: Well I'm just going to keep working on my nationally syndicated radio show, "On with Mario," "Extra, "which I host, I'm doing a new show, and "X Factor," obviously. I've got another book coming out, and there are other shows that I'm producing so I feel very blessed.
The Ashley: Seriously, how do you balance it all? I would have a Jessie Spano 'I'm so excited I'm so scared' moment if I had your life?
Mario Lopez: Well I have a very understanding wife first of all! Honestly I'm just blessed to have all of this stuff going on.
The Ashley: Do you have just sit around and watch old episodes of "Saved by the Bell?" Are there any episodes that you just cringe when you watch them?  [Maybe like this one? ]
Mario Lopez: No I don't. I was a kid, it was a long time ago. I'm just surprised it's still on the air. It's still very popular and that trips me out more than anything. I've had (Saved by the Bell fans) come up to me as little as three, four years old, all the way to 90 years old, so it's a nice range.