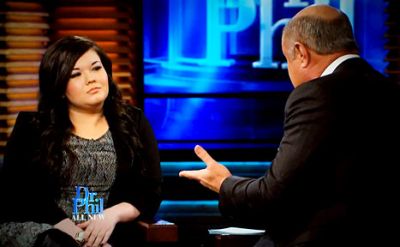 Amber Portwood is following in her Teen Mom co-star Farrah Abraham's footsteps! Luckily, she's not doing p0rn like Farrah, but it's just been announced that, like Farrah, Amber will make an appearance on the Dr. Phil Show!
Amber's episode will air Friday.
Dr. Phil was kind enough to give us a sneak peek of Amber's interview, in which she makes some shocking confessions.
"Every time you see me on [Teen Mom], I am high," Amber told the doctor, adding that her appearance on his show marks the first time she has appeared on-camera without some sort of drug in her system.
Amber was released from prison in early November and has already filmed a special for MTV which will likely be called "Being Amber," set to air early next year.
Amber also reveals the heartbreaking truth about her June 2011 suicide attempt.
"I didn't care [if I died]," she tells Dr. Phil.
Watch the sneak peek clip here!