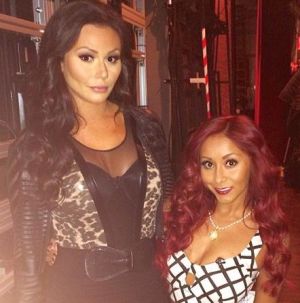 It looks like Nicole "Snooki" Polizzi is getting a new rack for Christmas, courtesy of her reality show co-star Jenni "JWOWW" Farley.
Yes, kids, that's right: JWOWW is giving Snooki boobs for the holidays. As.You.Do.
The gals (and their fiances, Jionni and Roger) sat down to film this super-annoying "Secret Santa" video for MTV News, in which Snooki reveals that Jenni has offered an all-expenses-paid trip to the plastic surgeon for Snooki.
"She bought me a boob job for Christmas," Snooki told MTV News. "I didn't get them yet, clearly."
Kind of makes that Starbucks giftcard you were about to give you bestie for Christmas look kind of cheap, eh?
No doubt the chest upgrade will be filmed for Snooki's reality show, Snooki & JWOWW if it gets picked up for a fourth season. The show is currently in its third season, which will finish airing on January 7.
The Ashley has to give Snooki credit. She's been getting accused of having had plastic surgery to lose her baby weight, and always insisted that if she ever were to get plastic surgery, she'd be the first one to admit it. It seems that she's making good on her promise.
"If I ever got plastic surgery you would know about it because I would tell you about it," Snooki said during a
recent interview
with
Oprah: Where Are They Now
.
Snooki did not indicate how large of a boob job she plans to get, but since she's only 4'10", she needs to keep it pretty small. (Hopefully she doesn't plan on sharing bras with the over-breasted JWOWW or she will literally fall over!)
(Photo: Instagram)