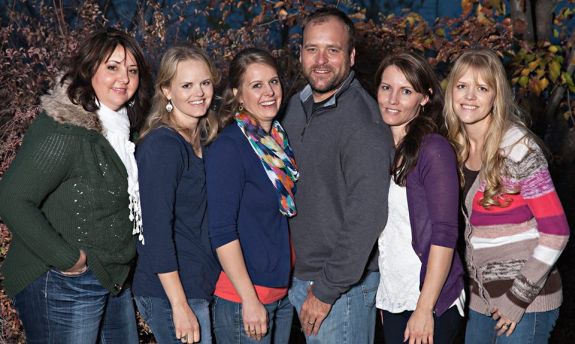 TLC is about to deliver Sister Wives 2.0!
The network announced yesterday that it will be turning My Five Wives, a special that aired this past fall that starred Brady Williams, his five wives and their 24 children, into a television series. Judging from the success of the network's other show that focuses on a polygamous family, this isn't exactly shocking news. After four seasons (five, if you count the new set of episodes that will air soon), the Brown family of 'Sister Wives' is getting a bit long in the tooth, so it's no surprise TLC wants to keep the polygamy fun flowing with a new family!
The new series will run in the same one-hour episode format as 'Sister Wives' and will make its debut in March 2014, according to The Hollywood Reporter, who broke the story. Nine episodes have been ordered.
The Williams family, which, along with Brady consists of his wives Paulie, Rosemary, Robyn, Nonie and Rhonda and their assorted children, made quite the ratings splash for TLC when their special aired in September. The one-hour program garnered a surprising 1.9 million viewers.
It's been a big month in the world of polygamy. Just a week or so ago, a federal judge ruled that Utah's ban on multiple cohabitation was unconstitutional and found in favor of the Browns, who filed the lawsuit. Read more about that here.
(Photo: Facebook)