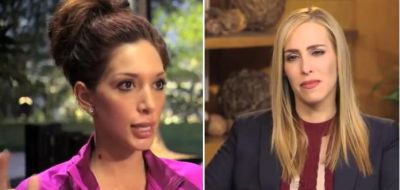 Apparently Dr. Jenn Berman and The Ashley have something in common (other than our love of cashing in on trainwreck celebrities, of course): we both think Farrah Abraham needs therapy– badly!
The doctor, who will "coach" our favorite "Backdoor Teen Mom" on the upcoming season of Couples Therapy, recently sat down with The TV Page to give her insight on Farrah, and according to the doc's medical opinion, she's just as screwed up as we all thought.
"What I found was that this was a woman who desperately needed therapy," Dr. Jenn told the site. "I felt that she did such authentic therapy and this was a woman so in need of therapy that there was no question in my mind that we did great work."
As The Ashley revealed a few weeks ago, several people from Farrah's past–including ex-boyfriends and family members–were flown in for the taping, which took place in November, to fill the supposed void left by Farrah's "boyfriend" of five months, Brian Dawe. According to Farrah, Brian was supposed to go on the show with her but bailed at the last minute, a story that Dr. Jenn is also spewing.
"The boyfriend, spoke at length with producers, did pre-interviews, had a plane ticket, the whole thing…He was flown in but he never showed up," she said. "So [Farrah] arrived not even knowing that he wasn't coming. She reached out to him and he didn't respond to her. I am kind of limited with what I am allowed to say, but he really surprised all of us. When she walked in I sat down with her and said, 'What do you know?' And she said, 'He is not returning my calls.' She was really, genuinely distraught and confused—as were my staff and producers."
The Ashley highly doubts that Farrah and Brian were ever romantically involved. (The girl Keeks when she takes a crap, don't you think we'd have heard something about this dude after five months of them dating? Puh-lease!) However, it does appear that at least some of this story might be true. One thing that did happen was that Brian fled Los Angeles in early-November, right around the time filming began.
He flew to Orlando on November 8, tweeting a few things that were obviously directed at Farrah and the producers of the show.
I trust no one from #hollywood #neveranswer310numbers #eastsideeeee

— Brian Dawe (@DJBrianDawe) November 9, 2013
If you're going to call my phone from a number I don't know I am not going to answer… Is it that hard to leave a voicemail? #nonewfriends

— Brian Dawe (@DJBrianDawe) November 9, 2013
Conveniently, he also has ties to VH-1, having starred on his own reality show, Master of the Mix, which focused on his job as a DJ.
Anyway, Dr. Jenn feels that Farrah was helped by appearing on 'Couples Therapy.'
"One of the cool things about Farrah is once Farrah realized how [truthful] the therapy is — which she realized rather quickly — she was saying 'I'll do whatever you want me to do.  I don't want to live my life like this anymore,'" Dr. Jenn told the site.
To read all of the crazy things Dr. Jenn said about Farrah and her 'boyfriend,' as well as what else we will see on the show this season, click here! Apparently, The Ashley isn't the only person that thinks the whole story of why Farrah is on the show by herself is a sham. The writer that interviewed Dr. Jenn thinks so too! Click here to read what he said after the interview.
(Photo: VH-1)