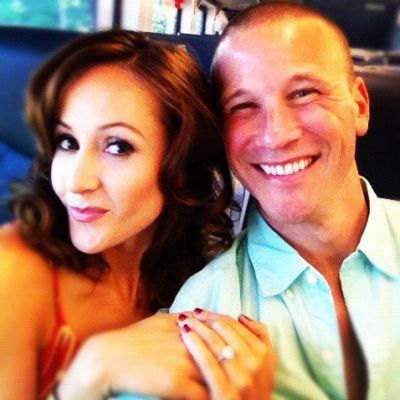 Hell has frozen over– a Bachelorette couple is getting married, and it looks like ABC is pulling out all the stops to make sure the wedding gets as much publicity as possible!
Us Weekly has just confirmed that Ashley Hebert will marry J.P. Rosenbaum, the man she met on her season of 'The Bachelorette' in 2011, in a televised wedding special set to air in December!
Not since Trista and Ryan has a couple from the show actually made it down the aisle (unless you count Jason and Molly Mesnick's rain-soaked nupitals). The fact that Ashley and J.P. are tying the knot is extremely exciting for fans of the show!
The Us Weekly article didn't give us much detail about the Ashley/J.P. Wedding Extravaganza, except that Ashley's dress will not be white, and that the reason they've waited so long to wed is that they wanted to wait until Ashley finished dental school before going into wedding planning mode. (She graduated in December 2011.)
Who will be in attendance? No guest list has been released as of yet, but The Ashley is sure that producers will surely wheel out ol' Trista and Ryan to prove that the franchise can actually produce a happy marriage.
The guest list will also surely include Ashley's reality show star sister, Chrystie Corns, and a plethora of contestants from the 'Bachelor' and 'Bachelorette.'
Ashley hinted that she had big news on Sunday, tweeting, "I am so so so so so so excited (Jessie Spano style), and I wish I could tell you all why!!!! #goodsecret AHHHH."
The fact that she used a 'Saved by the Bell' reference just made me like her more. Just saying.
Will you be watching the "Ashley and J.P. Wedding Extravaganza?" You know The Ashley will be all over this!
UPDATE: The date for the wedding special has been released! The Bachelorette: Ashley and JP's Wedding is set to air on Sunday, December 16. ABC has also confirmed that Trista and Ryan will attend the wedding (shocker), as will Blake Julian and his 'Bachelor Pad' wife, Holly.
(Photo: Facebook)