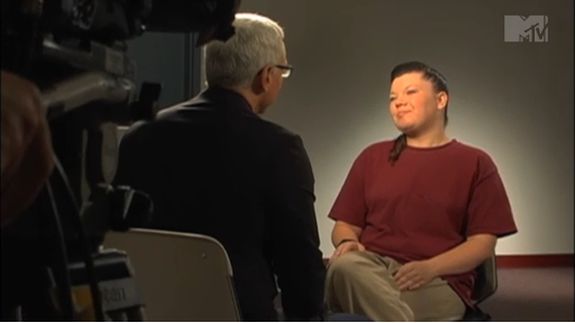 As The Ashley told you a few weeks ago, MTV has somehow arranged to weasel (who else?) Dr. Drew behind bars at the Rockville Correctional Facility in Indiana to sit down one-on-one and speak with troubled Teen Mom star Amber Portwood.
In this sneak peek of the "very special episode," which airs on next Tuesday, October 9, Amber reveals some heartbreaking things, such as the fact that she hasn't seen her daughter, Leah, since she entered prison in June, and, other than her mother Tonya, she has no visitors at all.
"[It makes me feel] like I don't even matter, like I never mattered" she tells Dr. Drew. "[It makes me feel] like sh*t."
She went on to say that she despite the fact that she speaks to ex-fiance Gary Shirley nearly every day, she's very angry with him.
"Yeah, anger. He has my daughter. I get mad at him on the phone and he hangs up on me," she reveals. "Leah can be brought in, but it all boils down to Gary, as the guardian, to sign the papers. I've sent him visitation papers twice.
"I think he's trying to protect Leah too. I don't really think she understands at all, from what she said on the phone," Amber continued. "She actually said 'Can I come over to your house?' She doesn't know where I'm at…what can you say to a three-year-old? How many times can I keep letting [her] down?"
That just hits you right in the gut, doesn't it? Just watching this clip made The Ashley extremely sad for everybody involved. (And, just for the record, The Ashley thinks Amber looks so much better here than she did on 'Teen Mom.' Without all the tarantula eyelashes, loads of makeup and piercings, she's actually a pretty girl.)
Although The Ashley doesn't think that it was a good idea for MTV to film Amber in jail, she, of course, will be watching this special. Will you?
Watch the entire clip below.