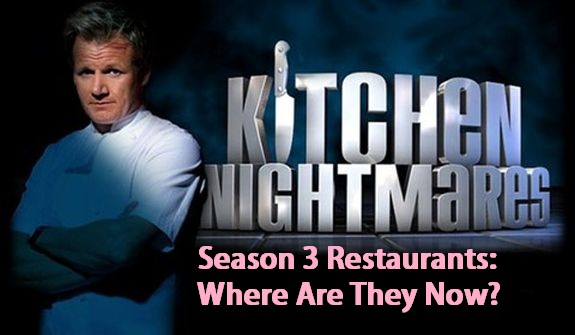 (NOTE: This post was updated in August 2014!)
Apparently, Roundup readers love the show Kitchen Nightmares as much as The Ashley does! After receiving dozens of requests to do a "Where Are They Now?" article on the restaurants featured on the third season of the show, The Ashley finally gave in and got it done!
These episodes were shot in mid-2009, with the episodes airing in the beginning of 2010. Many of the restaurants have gone belly-up since then, while some are still going strong!
To see what's become of the Season 1 restaurants click here. To see updates on the restaurants featured on Season 2, click here.
Hot Potato Café (Philadelphia, Pennsylvania)
Click here to watch a clip from this episode.
This café was anything but "hot" when Chef Ramsay made his way there in late 2009 to film the show. The spud-heavy menu was, well…a dud. (Bad potato pun, I know! I can't help myself.)
Ran by three sisters who had no idea how to own, run or even work in the restaurant business, Gordon felt that many of the concoctions on the café's menu were strange (crab dip sandwich, anyone?) and the quality even worse. Their niece, Danielle, was stuck being the chef of the place, even though she looked to be barely out of high school and was desperate to get out of the family business.
Tired of dealing with the sisters' "whoa-is-me" attitudes, Chef Ramsay walks out. He later returned and changed the menu, the decor and the sisters' attitude, even getting the food critic that once called the place "Spuddy Hell" to proclaim the new menu items as "Potato-rific!"  (Wanna see behind-the-scenes pics from the episode? Click here!)
Status as of 2014: CLOSED! Although the Hot Potato Café did seem to make significant changes to the way they ran their business and made their food after Chef Ramsey left, the restaurant closed in August 2010, just seven months after their episode aired.
According to one local food critic, the food and service began to slip and by June 2010, it was obviously that the tator shop didn't have much time left.
"We sat outside a extremely packed Krafttwork next door and noted that not one person went in or out of a very open-for-business Hot Potato Café all night," the critic wrote. "That is, until the owners locked up around 8 p.m. It was a Saturday night. Not a good sign.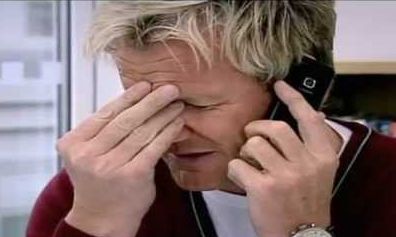 Flamangos (Whitehouse Station, New Jersey)
The staff at this New Jersey eatery was terrorized by owner, Adele. (No she wasn't "Rollin' in the Deep" or "Setting Fire to the Rain.") Flamangos was decorated in a strange tropical parrot motif and basically looked like the set for the "Margaritaville" music video….if it had been left untouched for about 25 years. (Personally, The Ashley loved it—but anything creepy and cheesy is right up my alley, so that's not saying much.)
Anyway, Chef Ramsey found a plethora of problems with this place, including food that was improperly prepared and stored, ancient decorations and a menu that was so diverse and random that it was confusing the customers. And then there was Adele. She spent most of her time barking at anyone that came within two feet of her, including the customers, the staff and Gordon himself! Adele's daughter, Cheryl, was still living with her parents because she hadn't been able to take a paycheck from the restaurant in over two years!
Gordon made major changes to the entire restaurant. Gone were the Toucan Sam decorations and jungle-themed props. (Not going to lie, when Gordon burned Willie the Wooden Alligator in a giant bonfire behind the restaurant, I was really sad.) He also changed the menu to include more elegant, Americanized offerings, and rechristened the restaurant "The Junction."
Status as of 2014: CLOSED! While Chef Ramsay apparently found a "calmer" Adele when he revisited The Junction for a follow-up episode in November 2010, the restaurant closed down in April 2011.
It's rumored that there was a lot of editing done to make the restaurant look worse than it was.
According to one diner, who ate there in May 2010 and posted a review online, "I had casually asked the server about the 'Kitchen Nightmare' episode. She said the amount of ad-hoc scripting done by the producers to make it 'real' was nothing short of a shock to her. When I had asked specifically about the mother, she laughed and said 'that was real.'"
In fact, someone from The Junction responded to all the negative comments in a post on a Topix board in September 2010 to further explain how producers purposely made them look bad.
"Do you know that the crew from the show was telling customers to complain about the food, service, etc..??? Do you know that they were making her staff go to her and say crazy things so she would get upset??? NO…I know none of you realized that, right?? Did you know they overwhelmed the kitchen so customers waited forever for their food??? NO…Did you know they overbooked reservations so we couldn't handle the volume of orders, etc..??? No folks, ya see…That's what TV is all about.."
Regardless, the restaurant ended up closing a few months later. Other than the loss of the restaurant, it doesn't appear that much has changed with the family. According to Internet creeping done by The Ashley, it appears that Cheryl still lives at home with her parents and is unfortunately still unemployed.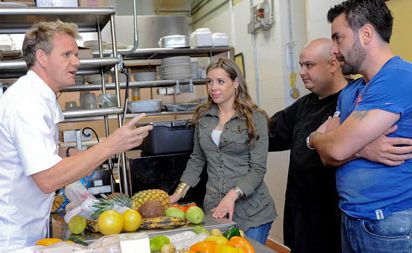 Mojito (Brooklyn, New York)
Click here to see a clip of this episode.
This Cuban restaurant was the last thread holding the marriage of Kata and Marcelo together. These two people seemed like they were literally plucked from a Spanish telenova. The separated spouses constantly fought, screamed and tried to make the other look stupid in front of their staff. Chef Ramsay arrives, only to find salty beans, toilet water-filled decorative bottles, and a completely chaotic scene in the kitchen. The staff was obviously tired of hearing Kata and Marcelo duke it out (I got sick of it after about 10 minutes, so I can only imagine how over it they were!)
Chef Ramsay scaled down their menu and put a halt to Marcelo's over-ordering of supplies. He also streamlined the menu and tried to play marriage counselor to Kata and Marcelo. While his exercises in cooperation didn't get the couple back together, it did help them work with each other without arguing.
Status as of 2014: OPEN! Mojito appears to be still going strong.  Chef Ramsay revisited the restaurant in 2011 for a follow-up episode and business was booming, with Kata reporting their numbers being up 30 percent!
These days, the restaurant appears to be very active in their community, having participated in several "Taste Brooklyn" restaurant events. They've also stayed in the spotlight, with Kata recently appearing on The Food Network's show Chopped and the restaurant being used as a setting for an episode of Love & Hip-Hop in 2012. Unfortunately, it looks like they may have slipped back into their old ways in terms of the food, as their 2014 reviews have been less-than-stellar.
Casa Roma (Lancaster, California)
Click here to see a clip of this episode.
When Gordon visited this Italian eatery, the owners reported that while they had no problem getting customers to come to their bar, the restaurant portion of the business was failing. The kitchen staff can't even get it together for Gordon's taste test. He ends up waiting over an hour for his food– he even takes a nap in the booth to pass the time!  When the food does arrive he finds watery mushrooms, a deep-fried ham and cheese sandwich with powdered sugar on top (um?) that is so greasy he's able to squeeze it out like a sponge.
Gordon helps the restaurant's owner to create a better, less grease-filled menu and advises her to fire her smart-ass chef, Erick. He also gets the staff to clean the place up after finding loads of rotting food in the fridge!
Status as of 2014: OPEN! When Gordon revisited the restaurant in 2011, he found that owner Nylah had taken his advice and gotten rid of Chef Erick. She actually ended up hiring a guy named Q, who had been the chef Sebastian's, another restaurant featured on 'Kitchen Nightmares.'
As of 2014, the place is still open– sort of. The owners have closed the restaurant portion of the establishment and now operate the place as a bar called "The Road House." They serve the traditional bar food– wings, appetizers, etc. but did not carry over any of the menu items that Chef Ramsay recommended.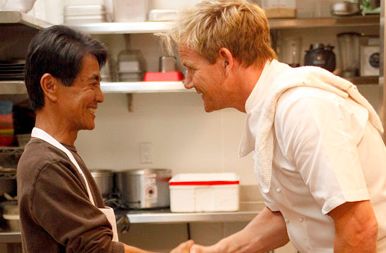 Sushi-Ko (Thousand Oaks, California)
Click here to see a clip from this episode.
When Gordon arrives at this Japanese eatery, he finds the owner and chef, Akira, depressed at what he, and his restaurant, have become. The failing restaurant is ruining the family that owns it, with Akira's wife, Lisa, constantly yelling at her husband for being lazy. (She literally did not shut her trap through the entire episode.) The couple's children are devastated at how sad their father is that his once high-prized restaurant has become a mockery of its former self. (Sushi pizza, anyone?)
Gordon finds major problems at the restaurant, including unsanitary conditions (improper food storage, old and/or frozen food, nasty prep habits and hairs in the crab–yum, yum!) He decides to help the family and their restaurant by providing them with new top-of-the-line refrigeration units, fryers and other equipment. (Akira's reaction when he finds out that he's getting these new items is priceless. Check it out.)  He helps Akira get his passion for cooking back and successfully relaunches the restaurant.
Status as of 2014: CLOSED! Although the relaunch in May 2009 was extremely successful, a few weeks after the episode was shot, the owners of Sushi Ko learned that they were losing their lease. The restaurant closed in August 2009 and was replaced by a delicatessen.
Despite the positive impact Gordon made on their eatery, owner Lisa Hatae told the Ventura County Star that they asked for help too late.
"At that point we had nothing to lose; we already were going to the landlord and asking for relief," she said. "We just thought of it a little too late."
By the time the episode aired in 2010, the restaurant had already been closed for months. The family claims they, unlike some of the people featured on the show, had a positive experience.
"They threw us a gigantic party with taiko drummers and dressed us in kimonos. It was a whirlwind," Lisa told the newspaper.
These days, it appears that Akira is, or has, set up another restaurant called Sushi Bay near Los Angeles. His son, Samson, is now an LA-based photographer. (You can check out his work here).
Lido Manhattan (Manhattan Beach, California)
Click here to see a clip of this episode.
Lisa Hemmat bought this restaurant on her own at age 23. Although her efforts were impressive, she was inexperienced in the industry and didn't know how to handle the staff (especially the ones she was dating!) Gordon made some big changes, but Lisa pisses off her kitchen staff, causing them all to walk out on relaunch night. Gordon called in his chef friend to save the night and eventually, the kitchen staff came back to work.
Status as of 2014: OPEN! "[Being on the show] was the biggest emotional roller coaster I've ever experienced," Lisa told LA Weekly in 2010. " [But] Chef Ramsay left me with hope, confidence and the feeling that I could conquer the world… I hope we put Lido on the map and keep people coming back."
Indeed it did. Today, the restaurant appears to be doing very well. According to recent online reviews, the food and service at Lido are top-notch, and Lisa kept many of the entrees Gordon created.
The restaurant now offers cooking classes, live entertainment and beer and wine tastings. They are also expanding into catering, and Lisa recently launched her own line of branded products, including Lido's signature olive oil, vodka sauce, salad dressings and wine!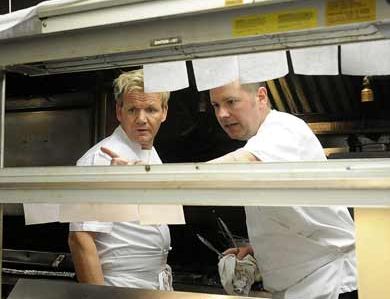 Bazzini (Ridegwood, New Jersey): CLOSED! The owners of this restaurant were so put off by their experience on the show, they didn't appear in the "Revisited" episode filmed a year later. (One of the restaurant's former pastry chefs caught Gordon up on why the restaurant closed.) In an interview with NewJersey.com, owner Paul Bazzini claimed that Gordon never spoke to him except when the cameras were rolling.
"You have no interaction with Ramsay at all," he said in the interview. "He comes with a very big machine of assistants and helpers. The only time that I ever spent any time with him was on camera." (I recommend reading the rest of the interview, it's pretty juicy!)
Anna Vincenzo's (Boca Raton, Florida): CLOSED! Despite Gordon's efforts to get this Italian restaurant up to par and back in the good graces of the community, the restaurant ended up closing in 2010. On a "Revisited" episode in 2011, a former employee told Gordon that after the initial boost that appearing on the show got the restaurant, owner Concetta Menna reverted back to her old ways and things went down-hill. Concetta and her father, who loaned her the money to start the restaurant, sold the place in 2011.
Le Bistro (Lighthouse Point, Florida): OPEN! When Gordon visited this French eatery, he encouraged the owners to streamline their menu and stop doing things that took up valuable time (such as baking their own bread). He also witnessed owner Andy's frequent outbursts and demand for complete control over the entire staff. Gordon attempted to tame Andy's temper, and added several dishes to the menu. However, Andy later took many of those dishes, such as the burger and a pasta bolognese, off the menu.
"We took those off," Andy told the Sun Sentinel in 2010. "People don't come to our restaurant for that stuff. They didn't sell." The restaurant appears to be doing well regardless, according to these recent reviews.
Mama Rita's (Newbury, California): CLOSED! This Mexican eatery was plagued by long wait times and bad food, mostly a result of them buying frozen food and reheating it. Gordon even brought in a consulting chef to give the restaurant's resident chef a crash course in food prep. (According to this interesting article, the consultant stuck around even after the cameras left.) Unfortunately, it wasn't enough to save the restaurant, which closed its doors in 2011. The owner, Laura, has continued the restaurant's catering business and is working with another local restaurant to promote it. However, every time the episode airs, she apparently gets negative feedback from viewers that don't understand that the episode is old.
"They are re-airing our episode of Kitchen Nightmares next week, then again 3 more times on cable!" Laura posted on the Mama Rita's Facebook page in 2011. "Now all the crazies will start contacting me….. Unless you need catering OR you want to invest some $$ to open a restaurant w/me in a good location, Please don't send me creepy or mean notes…. it was filmed OVER 2 years ago! Remember… just cuz it's called reality TV doesn't mean it's reality!"
Fleming A Taste of Denmark (Miami, Florida): CLOSED! Although this restaurant was a hit with the local senior citizens, it had failed to gain popularity and was sinking fast when Gordon arrived. Gordon had to yank entrees off of customers' tables after finding dangerous food storage violations in the kitchen. Despite Gordon's drastic changes to the restaurant's boring menu and decor, the restaurant ended up closing in 2010. Some of Fleming's staff ended up moving over to a local Mediterranean restaurant