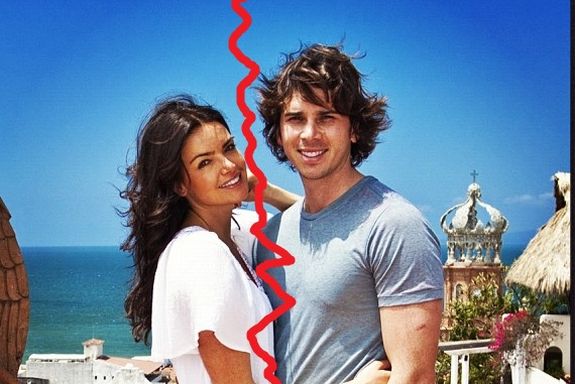 Well, that actually lasted longer than I thought it would.
Despite the fact that they recently told a magazine that in five years we could expect them to be married with babies, Bachelor couple Ben Flajnik and Courtney Robertson have called it quits.
I'll give you a moment to get over your shock.
The couple, who have been engaged since November 2011 when Ben proposed to a jubilant Courtney in a made-for-TV moment on top of the Matterhorn, officially confirmed their split to In Touch.
"After meeting over a year ago, we have decided to end our romantic relationship," the couple told the rag mag in a joint statement. "The ups and downs weighed heavily on us both and ultimately we started to grow apart because of the distance, time apart, and our need to focus on our respective careers.
"We have nothing but the utmost respect for each other, and both feel this is the right decision," the statement continued. "We continue to remain friends and will support each other in future endeavors. Thanks to everyone for your love and support, it's been quite a ride."
Suuuuure they will. I can't wait until one of them (probably Courtney) sells the other out to some tabloid and then they end up figuratively (and almost literally) ripping each other's faces off in a "very special episode" of 'The Bachelor,' a la Jake and Vienna! (Who could forget that lil' slice of reality TV heaven!?)
The Ashley has always felt that both Courtney and Ben had their own reasons for staying in the relationship, and that those reasons had little or nothing to do with love. Ben wanted to promote his wine business and Courtney wanted to promote her face in order to get more some acting roles.
Courtney and Ben are just the latest couple from the show to fall victim to the 'Bachelor' curse. Earlier this year, Ali Fedotowsky split with her fiance, Roberto Martinez after a long engagement. Ashley Hebert and J.P. Rosenbaum; and Emily Maynard and Jef Holm are the only couples from the franchise that are still together and could possibly give us a made-for-TV wedding.
Ashley and J.P. recently confirmed that they plan to get married (on TV, naturally) in December! Fingers crossed!
(Photo: Twitter)