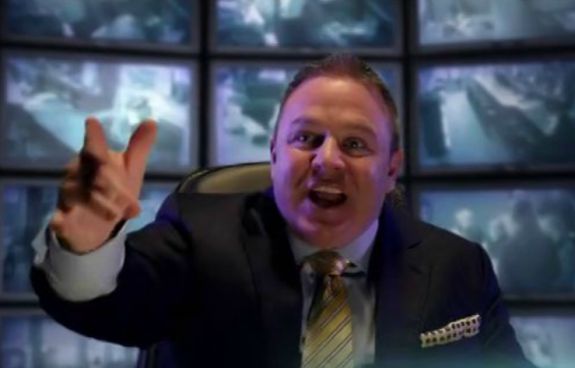 The Ashley recently started watching the show Restaurant Stakeout on the Food Network. Apparently, the show's on its second season, but The Ashley just discovered it! While it's entertaining enough, The Ashley had to wonder how authentic the show really is, so she did some research/Internet creeping in hopes of finding some dirt.
The Story:
The show claims that restaurant owners that are desperate to tame their wild employees and save their restaurants contact Willie Degel, the owner of a very successful chain of steakhouses in New York, to set up hidden cameras and see what their employees do when they think no one's watching. Hi-jinks ensue, of course: employees are caught doing everything from drinking on the job to break-dancing in the middle of the restaurant. (As you do.)
After Willie and the restaurant owner observe the employees' misbehavior, they storm in to inform the employees of their hidden camera stakeout, and Willie helps the owner to make some big changes at the restaurant. When he comes back six weeks later, everything is, of course, running much more smoothly, everyone's happy, and no one's breakdancing.
How Real Is This Show?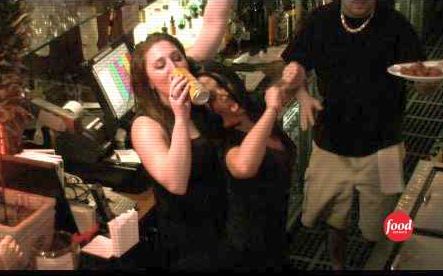 Let's start with the things that are real: Willie Degel is the owner of a successful chain of steakhouses. He's been the owner of Uncle Jack's Steakhouses since 1996. However, the chain isn't as large as the show alludes: in fact, the chain only has three New York-based locations. On its website, it says that it will be expanding into Las Vegas, Chicago and Miami "soon," with over 60 locations listed as "future locations." Hmmm…..
As far as the show's claim that distressed restaurant owners come to them to save their restaurants? Um…not so much, according to Carmen Zambardino, manager of the Lexington Grille and Pub, a restaurant featured on the show's first season. She told her local paper that the network actually came to them, not the other way around.
" [A] friend of mine knew one of the people from the production company and knew that they wanted to do [an episode of the show] with a place outside of Manhattan," she said. "The three of us met [owner Mike Solicito, herself and her Food Network friend] and took pictures of the inside and I described my staff and their personalities."
Not only did she describe the employees to the production staff, but they screen-tested them! (Um, like you would an actor?)
"They set up shop and recorded interviews (of) me and the staff," said Solicito.
"They screen tested employees to see how each person would look on camera and their personalities," said Zambardino. "A lot of our staff are very bubbly and happy people. The network loved us and we got top pick."
After they were chosen, owner Mike Solicito said, "The next phase was to get people on board and to sign releases."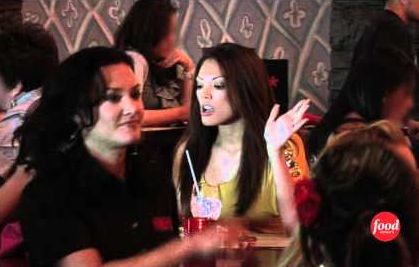 Yes, the releases….this is something that first red-flagged the show as being completely bogus. As The Ashley is well aware, no television show can use your likeness on camera without written consent. Even to be in the audience of a television show taping, you must first sign a release to allow them to use your face/voice/likeness/anything they want on screen. All of the employees shown on 'Restaurant Stakeout' have their mugs prominently displayed.
Doesn't it seem odd than in all of the episodes we've seen not one of the employees has had a blurred out face? (The blurred out face is basically the stamp of shame for a reality show; it means that the person did not give their consent to be filmed and therefore could not be shown.) That's why on shows like Cheaters, the cheater's face is sometimes blurred out; the person did not know they were being filmed and when they found out they did not allow the network to show their face.
Now, if you were a person working in a restaurant that was caught doing really bad things–drinking on the job, getting freaky with customers, etc.–why would you be willing to let all of America see your bad habits on television, potentially ruining the chance to get a better job someday? You wouldn't; all of these people knew they were being filmed beforehand, which is why their mugs are prominently shown. Don't you think that if this were real at least one of these hacks would tell the network to shove it and not allow them to use their likeness?
In fact, some of these people don't even actually work at the restaurants, according to Mount Ivy Cafe's owner, Lucia Ivezaj, who told Reality Blurred that the producers hired an actor to play the food-dropping lying waiter that got fired during her episode.  "They wanted a lot of drama, and unfortunately we don't have drama here. So therefore they made some of their own drama," she said.
The Mount Ivy Cafe owner also said that producers made the employees change clothes every couple of hours in order to make it seem like a different day. (Hate to break it to y'all but this is a practice that happens on most reality shows.)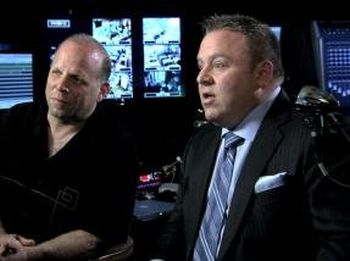 The customers are also mostly fake, according to Lexington Grille owner Solicito. (I'm surprised he was allowed to say all this, actually. I'm sure the network made him sign a confidentiality contract that was designed to prevent him from revealing production secrets of the show. But I'm glad he did!)
"One day they had a lot of extras, including my sister-in-law," he told Nanuet Patch. "They were paid to be annoying."
Paid to be annoying? That's The Ashley's dream job!
In addition, a lot of the dramatic scenes are just that–scenes. According to one staff member of a Staten Island restaurant featured during Season 2, the producers came up with things for the staff members to do that would make the episode more interesting.
"[The producers] were staging fights with waiters and waitresses," the worker, who spoke anonymously to SI Live.com because he still works at the restaurant, said. "It's all just fake stuff they want to make scenarios with. I can see if it was helping out if they're going in there and making things better, but they're making bad situations."
The same worker added that he regretted allowing the show to film him.
"Sometimes it's good just to get on TV," he said. "But when it's like that it's not even worth it. By the time you're already into it you realize it's too late. You've already signed the papers."
While all of this makes The Ashley disappointed (she really wanted the show to be real), it's not surprising. There's very little "reality" in most of the reality shows we watch.
Note: While doing research for this story, The Ashley stumbled across a ton of juicy gossip regarding this show, Willie Degel and the restaurants featured! She will posting all of this stuff very soon and will link to this story!