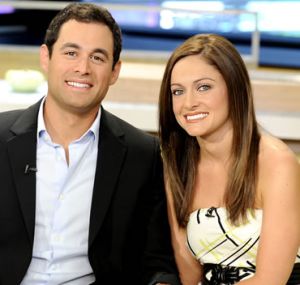 Former Bachelor star Jason Mesnick has announced that he and his wife, Molly are expected their first baby!
After weeks of bad news coming from the couples of the Bachelor franchise (Breakups! Cheating! Extortion!) it's great to hear some positive news! Jason and Molly are the only couple in 'Bachelor' history to ever actually make it down the aisle after meeting on the show. (Of course, many people say that their marriage doesn't "count" as a successful 'Bachelor' marriage, since Jason originally picked Melissa Rycroft, then dumped her during the finale for Molly.)
The couple has been married since 2010 and they, along with Jason's son Ty, live in Washington and generally keep out of the spotlight (which is probably why they're still together!) Jason took to his Twitter to announce their big news.
"Yes its true! WAHOOOOOOO!!! Molly is going to be a MOM and TY a BIG BROTHER! YIPPEEEEEEE!" he tweeted today.
"We couldn't be more excited about the pint size peanut on the way," Molly added on her Twitter account.
This will be the third baby to be born as a result of the 'Bachelor' franchise. Original Bachelorette couple Trista and Ryan Sutter are still married and have two children together.
Congrats to the happy couple, and thanks for finally giving us 'Bachelor' fans some good news!