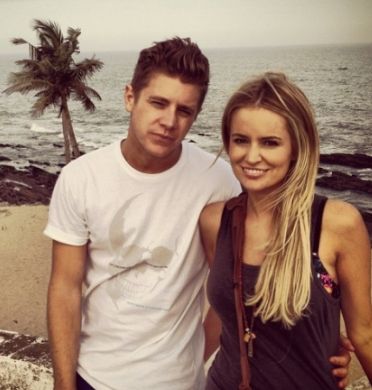 And….there it is!
Bachelorette dream couple Jef Holm and Emily Maynard have officially called it quits. Just as The Ashley predicted a few days ago, the couple chose People magazine to release the bad news to fans. (Emily's a classy broad, and People is the classiest of all the celebrity magazines, so it's a natural fit.)
In a statement (released conveniently late at night, and the same day as a presidential debate, in hopes of it being buried in the media), Emily told People that, "I am sorry to tell you that Jef and I have, indeed, parted ways. It was a very difficult and heartbreaking decision."
Jef chimed in with, "Emily will always have a special place in my heart. I don't regret a single second I spent with her or Ricki. They both have been a huge part of my life. Who knows what tomorrow will bring but we are moving on to the next chapter of our lives."
Of course, they both cooed about how the other is wonderful, how they'll remain best friends (snort!) and all that nonsense.
"Emily and I are great friends and I hope we can continue to be friends forever," Jef said in the statement. "Everyone wants a salacious story to break, but the truth is we are just two people who fell in love and tried our hardest to make it work. I will always love her."
Riiiiight. Whatever gets you through the night, buddy.
The funniest quote came from Emily, who told People, "I do hope that you will respect our privacy and allow us the time we need to heal."
Bahahahaha! Those who expect privacy don't go on national television shows, parade around town for the paparazzi and attend events. Don't get The Ashley wrong; she loves Emily (she wants to be her!) but, you don't get to pick and choose when to be a private person and when to be a public person.
Anyway, click here to read the full statement from Jef and Emily.
(Photo: Instagram)