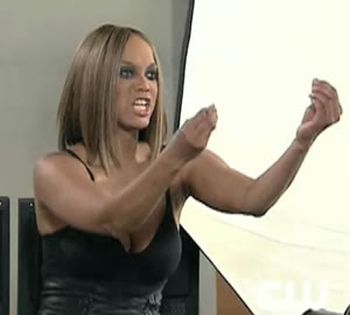 In a desperate attempt to breathe some new life into her once-hit show, Tyra Banks is bringing in some fresh meat–of the sausage variety!– for the next season of America's Next Top Model!
Variety is reporting that the CW has once again renewed the mildewy modeling show, bringing the grand total of seasons to 20. In addition, the trade magazine said, male models will be featured on the show for the first time, competing against the female models for a shot at everlasting five minutes of fame.
"Introduction of male models for season 20 signals another refresh for the ANTM brand, as does the integration of viewer votes through social media," Variety reported.
Oh, Tyra. Just let it die. Let.It.Die. You've had girls, college students, foreigners, and now boys. What's next? 'America's Next Top Model: Animal Edition?' (Just for the record, The Ashley would probably watch that.)
Back when the show premiered in 2003, it was one of The Ashley's favorites! Through the years, we've seen the quality of the contestants decline and the amount of time that Tyra's mug is on our televisions increase- big time. These days, the show is basically just a montage of Tyra photographs; I wouldn't be surprised if she dresses up like a male model to ensure herself even more airtime. (I'm kidding, but I can honestly see her doing something like this.)
All 15 of you that are actually excited about this new twist will have to wait until summer 2013, which is when this debacle is slated to air. Until then, you can watch this clip of Tyra talking about her favorite subject– herself!
(Photo: CW Network)