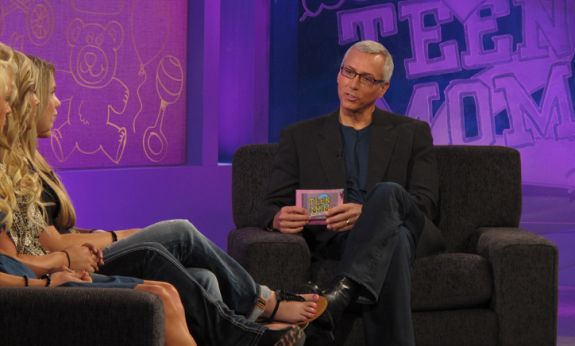 The Ashley has learned that the cast of Teen Mom 2 will be heading to New York City at the same time that the cast of the new Teen Mom 3 will be there! Both casts will be in the Big Apple to tape their reunion specials!
The 'Teen Mom 3' cast- which consists of 16 & Pregnant Season 4 cast members Katie Yeager, Briana DeJesus, Alexandria Sekella and Mackenzie Douthit– will sit down with Dr. Drew on Saturday, November 3 for an all-day filming session.
The following day, the 'Teen Mom 2' girls- Chelsea Houska, Kail Lowry, Leah Messer and Jenelle Evans (and, God willing, her motha, Babs!) – will take their turns on the couches. No doubt the good doctor will have a lot to talk to them about– Kail's engagement, Jenelle's engagement/breakups/nude pictures/breast implants, Leah's wedding and Chelsea's um, hair?
The day after that, November 5, MTV will be taping an After Show with the 'Teen Mom 2' cast. The girls will sit down with other (non-famous) teen mothers and discuss real-life issues that moms face. Dr. Drew will be moderating.
The reunion specials are now almost exclusively shot in New York City, as opposed to Los Angeles, where they used to be shot. The reason for this is, in The Ashley's opinion, there's less paparazzi to worry about in NYC, among other things.
Fans of the shows have criticized MTV for taping these reunions so far in advance that by the time they air they are often six to 12 months out-of-date. However, MTV still insists on doing it this way, and we, as devoted fans, still insist on watching this crap.
UPDATE: We now have a premiere date for 'Teen Mom 2' season 3! The season will start Monday, November 12 at 10 p.m.!
(Photo: MTV)