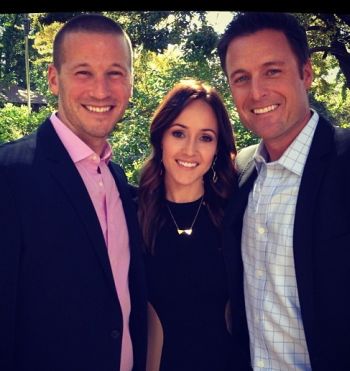 It's a Bachelor-a-polooza today in Los Angeles! All of the most-popular cast members from The Bachelor and The Bachelorette have all congregated in the City of Angels for a very special event–Ashley Hebert and JP Rosenbaum are getting married today!
While we won't actually get to watch the made-for-TV nuptials until the wedding special airs on ABC on December 16, the wedding is happening today in Pasadena! 'Bachelor' host Chris Harrison will be officiating the ceremony (naturally), and wedding guests will include a who's who of 'Bachelor' franchise alum.
Attending today's rain-soaked nuptials will be: Emily Maynard, Sean Lowe (who is fresh off filming his season of 'The Bachelor'), Trista and Ryan Sutter (gotta wheel them in), Roberto Martinez, Ali Fedotowsky (um…awkward!) Jackie Gordon, Craig Robertson, Jillian Harris, Producer Elan Gale and his girlfriend (who was on Ben's season) Casey Shteamer, DeAnna and Stephen Stagliano and many more.
It appears that a few 'Bachelor' alum didn't get an invitation. Jake Pavelka, Ed Swiderski, Jaclyn Swartz and a few other notable cast members must have had their invites get lost in the mail!
Ashley's sister, Chrystie Corns of TLC's Extreme Couponing show will be attending the wedding as well. She is newly married herself, and recently announced that she is pregnant!
It's raining in Los Angeles today, which is reminiscent of 'Bachelor' star Jason Mesnick's soaking wet wedding to his wife, Molly. Hey, they're still together so maybe rain on your wedding day really is good luck!
Congrats to the happy couple! It's nice to see one of these 'Bachelor' couples actually make it down the aisle!
Wanna buy them a wedding gift? Click here to see their registry! (They still need their copper mixing bowl!)
UPDATE: WetPaint has more details about the wedding and reception!
(Photos: Facebook)