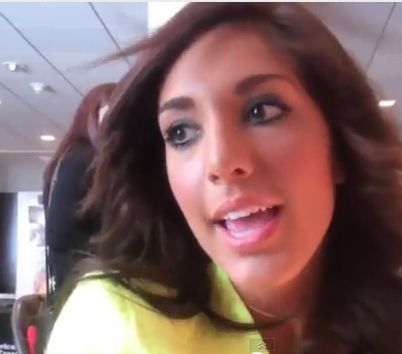 Farrah Abraham of Teen Mom fame took to her Twitter account this morning to announce that she will be releasing a children's book in one week.
"SO EXCITED! count down til my first Children's Book release!! DEC.11 get ready # PARENTS" she tweeted.
This will be the second book that Farrah has released in 2012. Her first book, My Teenage Dream Ended, was released earlier this year and, despite the fact that it read like something written by an English-second-language 5th grader, sold really well and ended up making the New York Times best-seller's list for e-books.
According to a recent interview Farrah did with RumorFix, the children's book will focus on something that a lot of Teen Mom fans have long-criticized Farrah for– allowing her daughter to constantly use a pacifier!
"My children's book, that I'm writing with Sophia, my daughter, it's really about her pacifier, so I think mothers will really enjoy it."
She also revealed plans for a parenting book and a book about plastic surgery, to be released in the future.
In the interview, she also confirmed our worst fears: she's planning to unleash some more of her horrendous music on us!
"We're just making some cute baby and mommy music, so other moms can do baby music time with their children."
The Ashley's hoping that this album will at least come with a complementary set of 'Teen Mom' earplugs!
UPDATE: The book will apparently be called Passy Perfume. (You know…if you changed one letter in that title it would be…well, nevermind.) Starcasm has more details on the book.
If you want to purchase Farrah's new Kindle book, click the link below.
(Photo: YouTube)