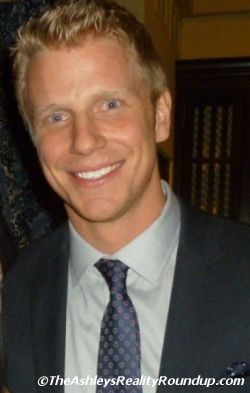 Last weekend, The Ashley had the pleasure of meeting Sean Lowe, the current star of The Bachelor! (She would like to go on record and let y'all know that he is just as nice and wonderful in person as he seems on the TV! Whatever girl ends up snagging him will be one lucky broad!)
Anyway, Sean chatted with The Ashley about his experience on 'The 'Bachelor,' and revealed that, despite having lived a glamorous life during filming, he's eager to get back to regular life. Unlike many of the people from the 'Bachelor' franchise, Sean says he isn't looking to extend his 15 minutes of fame.
"I still live in Texas and I love Dallas," he told The Ashley. "I am not pursuing a Hollywood career. I don't have the acting chops to pull it off!"
While he may not have plans to become a movie star, life for Sean has certainly changed since going on the show.
"When I enter a bar or an atmosphere like that, the girls start tugging on me," he said. "I can do without that! They are bumping my friends out of the way to squeeze in the frame! But I am happy to do it. Everyone, for the most part, is very nice and [they usually] say 'We are rooting for you!'"
"There is no turning back now," he said, adding that he is OK with being forever tied to the sappy dating show. "I can only hope that I have presented myself well and be proud of the way I conducted myself on the show. I have nothing to be embarrassed about or ashamed of."
Too bad we can't say the same about some of the girls vying for Sean's heart on 'The Bachelor.' The girl that face-planted while attempting to do a back flip will live on forever in the 'Bachelor' Hall of Shame!
Stay tuned for more of The Ashley's exclusive interview with Sean!