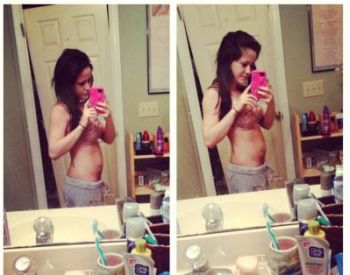 Ever since Teen Mom 2 star Jenelle Evans announced yesterday that she and her husband Courtland Rogers are expecting their second child, the 'Teen Mom' news world has been running rampant with rumors regarding the pregnancy.
The Ashley decided to clear up a few of the most notorious ones for her readers, who she knows, despite themselves, can't pull themselves away from the trainwreck that is Jenelle's life.
Is Jenelle really pregnant?
Yes. Although The Ashley was original doubtful when she heard the news (and, for the record, still is!) that Jenelle was expecting, it seems to be legit. Jenelle's mother, Barbara, has confirmed the news for an upcoming story in a tabloid (we'll probably see that hit the stands next week). In addition, The Ashley's 'Teen Mom 2' sources and MTV all seem to be confirming it as well. Unfortunately, it looks like poor Barb will need to get bunk beds put into Jace's room, as it looks like she'll soon have another one of Jenelle's kids to take care of.
Are Jenelle and Courtland getting a spinoff show on MTV about their marriage and new baby?
No. Despite the fact that Courtland made the comment to Star magazine that he "really wants" to do a MTV spin-off show with Jenelle and that it's under consideration right now, this is totally false. Courtland (who appears to be just as big of a famewhore as his wife) is delusional if he thinks MTV is going to give them a show.
In fact, MTV made a statement about this on their MTV Act Blog, assuring fans that, "It's not true and there is no new show in the works for the newlyweds."
Is it true that MTV paid Jenelle $20,000 to get pregnant again?
NO! The Ashley talked to a 'Teen Mom 2' insider, who put this rumor to rest, saying that there was no truth to it whatsoever. In fact, if anything, MTV is very unhappy about Jenelle's pregnancy, as it makes the series look very bad to have two of its moms get pregnant again. (Leah Messer is expecting another baby very soon.) Although it was speculated that MTV offered Jenelle the money to get knocked up again to help with ratings, The Ashley's source says this is not true at all. Now, the tabloids may have offered her a ridiculous amount of money, but certainly MTV did not.The show's ratings are very good on their own.
(Photo: Facebook)