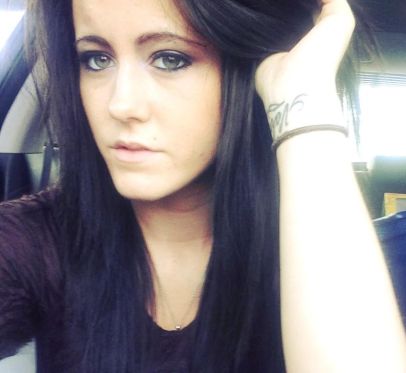 For the last few months,Teen Mom 2 star Jenelle Evans has been in a downward spiral of drug use, mysterious hospital visits, marriage, divorce, pregnancy and miscarriages. During all of this havoc, Roundup readers have asked The Ashley for her comments. However, The Ashley has chosen to stay mostly mum on the subject for a number of reasons.
First, it is impossible to write about everything that Jenelle does. The Ashley feels that those that have attempted to follow Jenelle's craziness are just exhausted by it all and are tired of hearing about who Jenelle is marrying/divorcing/publically humiliating on Twitter, etc.
Second, the last thing The Ashley wants to give Jenelle is more publicity. She feeds off of it.
However, the time has come for The Ashley to venture down this rabbit hole a bit and discuss the repercussions that Jenelle's actions has had on herself, the network she represents and the other girls associated with this show.
The Ashley was interviewed about this topic for a story in today's New York Post. That article, which reveals that insiders are saying that 'Teen Mom 2' will not continue with a fifth season, can be read here.
Although the 'Teen Mom' shows have long been touted as a "ground-breaking docu-series," and cautionary tales about the perils of teenage motherhood, this is hardly the case these days. In fact, motherhood has become an after-thought on the show. Instead of focusing on how hard it is to be a teenage mother, Jenelle's segments are centered around whatever bottom feeder she happens to be getting freaky with at the moment, court hearings and fighting with her mother. (While the other girls' segments do actually focus on their motherhood experiences, there is still room for improvement here in terms of how much footage MTV uses that includes the kids rather than the boyfriends, etc.)
MTV has caught a lot of flack from critics and the general media for "glamorizing" teen pregnancy by taking these girls and turning them into full-blown celebrities. (Many of the moms have argued that they are not celebrities or famous, but this, of course, is simply not the case. Like it or not, these girls are on the covers of magazines, gathering astronomical amounts of followers on social networking sites, etc. They are famous.)
Jenelle's antics onscreen pale in comparison to what is happening on her Twitter and Facebook accounts, essentially turning the show into a mockery of itself. It's quite ridiculous to watch footage that was filmed nearly a year ago in which Jenelle is claiming that she is "getting her life together," all while her current life is playing out online like a white trash telenova.
MTV has long had to scramble in order to cover up Jenelle's antics and save the franchise from further embarrassment. For example, in March 2011, Jenelle brutally attacked a former friend. (She was later arrested for her actions.) The footage of the fight quickly went viral (thanks, TMZ!) and media outlets from as far away as New Zealand were picking up the story. However, MTV was somehow able to completely sidestep this event, with not even a mention of the fight making it onto 'Teen Mom 2.'
Unfortunately, her antics have continued to get worse as time goes on. Her marijuana use has escalated to opiate use, she's been arrested multiple times in one month, a quickie marriage (and subsequent divorce) has also included a pregnancy (allegedly, still not buying that, just for the record) and miscarriage.
What does this mean for the series that made her famous? Unfortunately, her latest hi-jinks may have put the final nail in the already-closing coffin of 'Teen Mom 2.'
By all accounts, the show was on its way out. The third season has almost finished airing, and the fourth season has been taped and is in the bag. However, the possibility of a fifth season was apparently still lingering. With her latest divorce/pregnancy/miscarriage drama, Jenelle has likely killed all hope of the series continuing.
Why? Jenelle has become a liability to the show and the network. It was, in fact, MTV that allegedly encouraged Jenelle's mother, Barbara, to come to New Jersey back in September and fetch her strung-out daughter from Kieffer Delp's house because they feared for her safety. Of course, this can not be confirmed; however, everyone that The Ashley has spoken to about this confirms that it did, indeed, happen.
If MTV were to choose to continue to follow the four girls of 'Teen Mom 2,' they risk having to deal with the possibility that one of their four stars could die on them. Although that may sound harsh, it's simply a reality, especially when you are dealing with a person who is using very dangerous drugs, engaging in risky behavior, dealing with bottom-of-the-barrel people and seemingly having no concern for her own health or well-being.
Last year, 'Teen Mom' star Amber Portwood's life went from entertaining trainwreck to serious and sad when she pleaded with the judge to send her to prison in order to save herself from drug abuse and, most likely, death. Her life, once funny fodder for us celebrity journalists, eventually took a turn and became just plain sad. There's nothing funny about a girl on the brink of destruction, pleading for help.
MTV was blamed for what happened to Amber. Would Amber still have suffered from mental problems had she never crossed paths with the network? Yes. Would Amber still have gotten involved in drugs? Probably. However, she received money and fame from the show that most definitely helped to escalate and support her already existing problems.
After what happened with Amber, it's just too risky for the network to continue following someone like Jenelle. This is a girl that feeds off of her fan base, constantly posting play-by-plays of her latest drama, looking for constant gratification and attention from people she doesn't know but that admire her because they watch her on their TV for an hour a week. Giving a person like this fame and fortune is like handing a crack addict a pipe and telling them, "Go nuts!"
The Ashley firmly believes that there will not be a fifth season of 'Teen Mom 2.' How can MTV possibly continue to claim that this show is a docu-series about motherhood with Jenelle pulling these crazy stunts on a daily basis? She will essentially make them look like fools.
Unfortunately, Jenelle's antics have likely ruined it for the other three girls, and the fans. Could the show been saved? Definitely. Had MTV replaced Jenelle in the second season, when things started to really go sour, or if someone had simply restricted her social media usage, things might have been different. Of course, The Ashley is not claiming that the only reason the show won't be picked up for a fifth season is because of Jenelle, but it was surely a sizable part of that decision.
The Ashley hopes that Jenelle will eventually get the help that she needs– real help, off-camera, without the glare of the media and the ability to constantly update her fans on every dramatic event of her life. Her stint in rehab during Season 2 was nothing more than a joke, a shoddy attempt by MTV to make it look like she was getting help and straightening up her life.
Several insiders that The Ashley has spoken with say that Teen Mom 3 will be very different. MTV probably thought that casting someone like Jenelle would be great for ratings (they were right!) but that has obviously blown up in their faces and they certainly don't need to have something like this happen again.
The Ashley will continue to write about the shows, and, on occasion, maybe even Jenelle. Please realize that this was a special opinion piece, and my opinions may be different from yours.
That being said, The Ashley wanted to let her readers know that she has something very exciting coming for y'all  next month! You are going to love it (trust me) so please stay tuned! The announcement will be coming shortly!