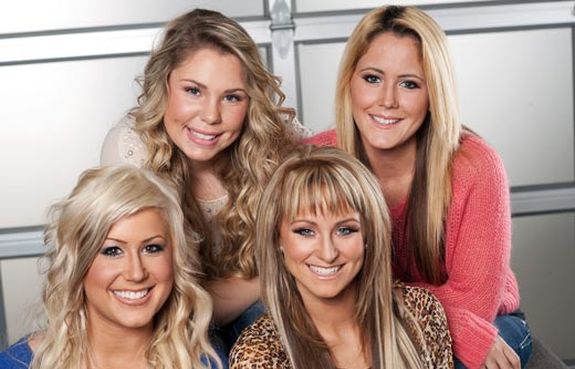 After The Ashley helped in creating a sh*t storm for MTV by taking part in an article that revealed that the network was considering canceling Teen Mom 2 due to Jenelle Evans' antics, a plethora of rumors sprung up. Some outlets reported that MTV was pulling the plug on the show ASAP, and would not even air the already-in-the-bag fourth season. This, of course, is just ridiculous. Nowhere in the article (or The Ashley's follow-up post) did we suggest that they would not air that season. It makes no sense at all!
After the article spread all over the Internet, MTV was forced to make a statement in regards to the future of the show, telling media outlets that no decision has been made in regards to a fifth season but that they would be announcing the premiere date for Season 4 shortly.
Well, kids, that date is here!
In a press release sent out this morning, MTV announced that 'Teen Mom 2' Season 4 will premiere on February 18. Just as The Ashley predicted, MTV is planning to allow 'Teen Mom 2' to run its course before beginning 'Teen Mom 3.'
The Season 3 finale, which airs tonight, will be followed by the Reunion Special with Dr. Drew on February 11. The show will remain in its Monday time slot for Season 4.
The press release also hinted as to what we will see in Season 4:
"Season four will pick up immediately where season three left off, diving deeper into the lives of Chelsea, Jenelle, Kailyn and Leah as they continue to navigate the ups and downs of motherhood, life and love. From the tragic loss of an unborn child and a heartbreaking love triangle to ongoing custody battles and struggles to pursue an education, these young women will once again pull back the curtain to give viewers a raw look inside the difficulties and joys of young motherhood."
Blah, blah, blah! The Ashley's just hoping that we get to see the good stuff, like Jenelle's spiral into heroin use, Kail's wedding and Leah's wedding(s). It does look like Chelsea will actually have a semi-interesting story line for once:
"Chelsea focuses on beauty school, but has trouble concentrating when the pressure starts to mount.  With has a soft spot for her daughter Aubree's father, Adam, she once again rekindles their relationship. However, history repeats itself when the two cannot make their tumultuous relationship work, and Adam starts dating again and takes Chelsea to court for custody of Aubree. And, even though their reconnection only lasted for a short time – the decision to give him yet another chance could change her life forever."
Dun dun dun!
The Ashley will do her best to do a better job recapping the fourth season!
Watch the trailer for Season 4 below! It's going to be good!